Goosebottom's Horrible Hauntings Review
Goosebottom's children's book Horrible Hauntings is proud to have won Best Children's Book in the 2012 Halloween Book Festival Awards.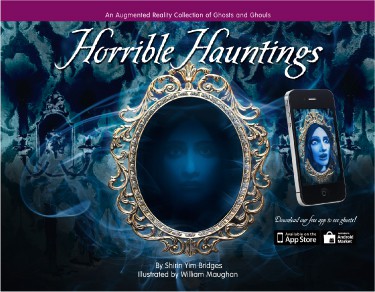 For older children who love scary ghost stories, Horrible Hauntings features ten ghost stories for young readers. This unique print book includes a free app that uses Qualcomm Vuforia TM technology so that the "chills and thrills" appear to come alive off the page. There are ten 3-D ghosts including the Flying Dutchman, Bloody Mary (she stills gives me nightmares from my childhood) and the Princes in the Tower. Children (and adults) can interact with the ghosts by using touch controls, speaking and moving the view.
Written by children's author, Shirin Yim Bridges the text is spooky but not scary or gruesome and includes lots of fun historical facts too. The illustrations by William Maughan are outstanding and it really captures the spooky essence brilliantly. My youngest children were a bit young for this book so I read it with my oldest son by candlelight while we were curled up under a comforter in the dark one evening. It was such an interesting book that I was very impressed with the content. My favorite story is that of "The Amherst Poltergeist", the retelling from the year 1878 of a nineteen year girl from the Canadian town of Amherst who experienced a series of strange events. Be prepared to lock your doors and close the curtains…………………
Available from Goosebottom books, Horrible Hauntings has a SRP of $21.95.
Disclosure: I was not financially compensated for this post. I received a sample of the product for review purposes. The opinions are my own, based on my personal experience with the product.