HEXBUG Warriors Battling Robots Battle Arena Review
I learned about HEXBUG® toys last year when it was at the top of my two boy's Christmas wish lists. They really enjoy playing with these little robotic critters and it remains one of their favorite toys that they play with on a regular basis.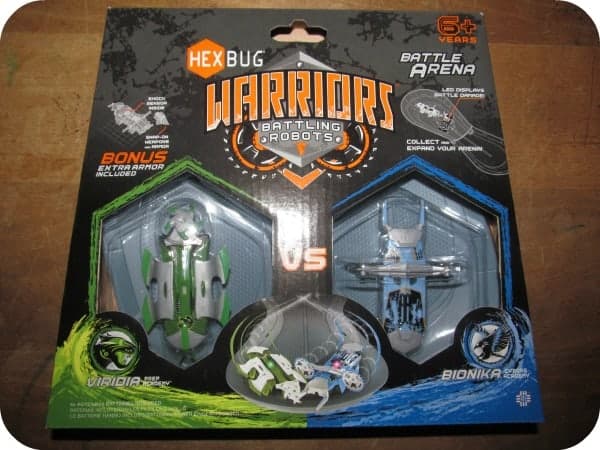 The latest HEXBUG® toys that are sure to be a hit this holiday season are HEXBUG® Warriors Battling Robots. Kids can "let the battle begin" by using these futuristic fighters (micro robots) to outmaneuver their opponents in the Battle Arena and Stadium competitions. The HEXBUG® Warriors Battling Robots use vibration to move forward and "battle" just like our collection of HEXBUG® Nano creatures.
The allure of HEXBUG® to my young boys and all of their neighborhood friends is quite impressive and you can often hear the sounds of cheering as their HEXBUG® Nano and HEXBUG® Warriors Battling Robots compete in the "Battle Arena" where the young "students" practiced their skills. They love that the LED displays shows the "damage" to their Warriors and state that this is the "coolest feature ever!" The Battling Robots also have actual running motors and there are two modes of play including a "Training" and "Battle" mode.
Kids can collect all of the HEXBUG® Warriors in toy line and expand their arena. The pieces were quite easy for them to connect and as we add additional HEXBUG® Warriors play sets they can ultimately design their own "Mega Stadium" which is their expressed goal for the future.
HEXBUG® Warriors Battling Robots is a hot toy for boys (and girls too) this holiday season and make great gifts and stocking stuffers. You are invited to visit the HEXBUG® website to learn about this exciting, fun toy micro robot collection which is affordably priced with HEXBUG® Warriors Battling Robots Singles starting at $7.99 each and the Battle Arena and Stadium priced between $19.99 and $29.99 each. Want to see the HEXBUG® Warriors Battling Robots in action? You can watch a short video which shows how it works at the website too!
Disclosure: I was not financially compensated for this post. I received a sample of the product for review purposes. The opinions are my own, based on my personal experience with the product.