Fellowes Powershred 69Cb Shredder Review #FellowesProtects
I have had the unpleasant experience of being a victim of identity theft. About 6 years ago, I had $500 stolen from my bank account. When I discovered the money was gone, I called my bank immediately. I lived in Ontario at the time and was nowhere near Montreal where the money was withdrawn. The bank gave me my money back, but since that experience, I've always been nervous about identity theft and fraud. This experience really shocked me into reality and made me realize that I need to be more careful when it comes to using my debit card at stores (especially gas stations where I believe my fraud took place). 
One thing that I have wanted to buy for a long time has been a shredder. Whenever I had to dispose of old credit cards or other important documents, I would cut them up by hand. A shredder could do the job much faster and more efficiently than I ever could!
I'm now the proud owner of a Fellowes Powershred 69Cb. I used to work in an office environment so I'm familiar with the Fellowes brand of office products. 
The Powershred 69Cb provides high performance shredding and has many features that I have come to appreciate. 
SilentShred: It's super quiet! You can shred anytime of day and not worry about bothering anyone or waking up a napping child. I remember how loud our shredder was at the accounting office where I worked so this feature is a HUGE plus!
JamBlocker: This key feature blocks paper jams before they happen. It was so annoying to deal with shredder jams and they seemed to happen to me almost every time I would shred at my old job. With the Powershred 69Cb, the shredder will automatically reverse the paper so you can easily remove it and prevents a jam. If you put too much paper in, the Remove Paper icon will light up and then you remove some paper and re-feed it in the shredder.
SafeSense Technology: Stops shredding when hands touch the paper opening. As a mom, I'm always worried about the safety of my children. Although I wouldn't let my kids play with the shredder, I feel better knowing that the shredder is equipped with this patented safety sensor to prevent an accident from happening.
The Fellowes Powershred 69Cb uses powerful solid steel cutters with a cross-cut capability. It shreds paper, credit cards, staples and even small paper clips. It can take 10 sheets of paper per pass and shreds your documents so no one will be able to get any key info of them. The pull-out bin holds 5 gallons which is a good size for home use.  The recommended daily use is 300 sheets/10 credit cards. 
I've got a huge pile of paperwork in the office that I need to shred. It's mostly old bills and I've been hanging onto to them until I got a shredder. Now I can finally clear that space and dispose of them properly and safely! I do not want to be victimized again so will do everything in my power to educate myself and take the proper and necessary precautions.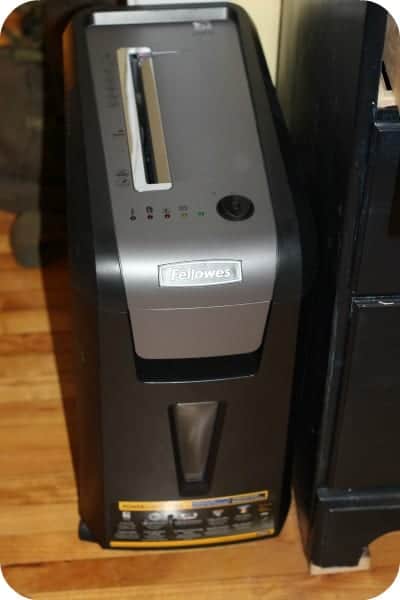 In terms of design, its sleek  and black and blends in perfectly next to our black desk in the den. It's an excellent addition to our home office space with so many benefits!
Top 10 Must-Shred Documents
Sylvain Patry, senior vice-president at ProtectionPower.ca, is an identity theft expert and he has compiled a list of the top 10 documents that you should be shredding. This list was a big eye-opener because in the past I've just thrown away or even recycled some of these types of documents. It's scary to think that I could have been putting myself at risk for identity theft. I definitely will be shredding all these types of documents from now on!
1. Monthly Credit Card Statements
2. Employment Paystubs – If you receive pay stubs on a weekly basis or otherwise, you should keep them only until you receive your annual wage and tax statement.
3. Personal Income Tax Reports – You should hold onto these (in a safe place) for five years. However, after five years, it is important that they be shredded.
4. Monthly Utility Bills – This includes anything from hydro bills to cable bills.
5. Spam Mail – Any document you receive by regular mail, including sign-up forms for a new credit card, a magazine subscription, or any other document that contains your personal information, such as your name, home address, phone number, etc.
6. Federal, Provincial or Municipal Government Documents – Examples of this would be your health card, driver's licence or passport renewal notices, or even a confirmation letter of your children's school registration for the new school year.
7. Express Mail Documents – Generally invoices or a confirmation of delivery that accompany a letter or package that was delivered to you by UPS, FedEx, or Canada Post Express – even the labels on delivery boxes or envelopes.
8. Membership Notices – If you are a member of any organization, such as a tennis club, fitness club, library, etc., be sure to shred all membership renewal notices and documents accompanying the delivery of membership cards, credit cards, store cards, etc.
9. Banking Documents – This includes bank account statements, used bank account booklets, old unused checks, etc…
10. Miscellaneous Documents – Any other documents you receive or possess that contain usernames and passwords.
I definitely did not realize the risk associated with Express Mail Documents. As a blogger, I receive many deliveries and never thought twice about recycling the paperwork that comes with my shipments. I will be using my Fellowes Powershred 69Cb for any kind of paperwork that contains any kind of personal information.
If you are concerned about identity theft and want a good quality shredder that does the job and is safe, then I encourage you to check out the selection of shredders at Fellowes including the Powershred 69Cb that I reviewed. You can pick one up for yourself at a Staples near you.
Connect with Fellowes Canada on Twitter.
Disclosure:  I received a sample of the product for review purposes. The opinions are my own, based on my personal experience with the product.