Febreze Review
I love absolutely everything about the holiday season. From Halloween to New Year's Day, I'm one happy camper! I love to bake for all the holidays, the chilly air, the travelling, the family dinners and the hustle and bustle of the season. I even love the scents of the holiday season – everything from the pine tree smell of Christmas trees to the smell of freshly fallen snow. The makers of Febreze have managed to capture those wonderful smells of the season in their new limited edition seasonal products.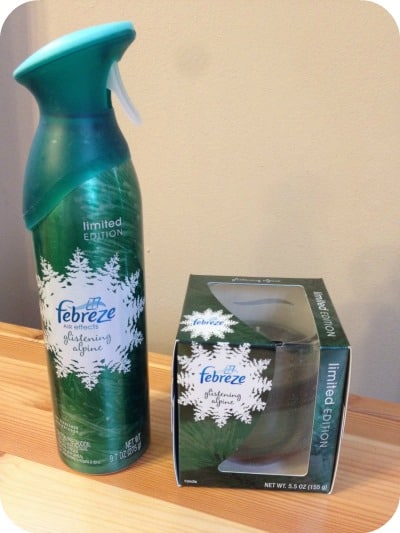 I received two products in a new scent from the Febreze limited edition holiday collection. The first is their classic Air Effects spray in Glistening Alpine. I have quite a few of their sprays in my home and I am so happy to have the alpine scent product for the holiday season. The spray is made to seek out and eliminate odors in your home while leaving a light fresh scent behind. The alpine scent leaves behind a wonderful smell of fresh pine trees that really invokes that holiday spirit (I was ready to put up my tree and turn on Christmas carols!). To complement the spray, I also received a Febreze Candle in the Glistening Alpine scent. Packaged in a pretty box ready for gift-giving, this candle gives off a warm glow with the wonderful pine scent that fills the room. I'm not a fan of overwhelming smells, so I was happy that these products really delivered on the promise of "fresh, light scent" – something I've found to be true of all the Febreze products I have ever tried.
In addition to the Glistening Alpine, Febreze is offering other limited edition holiday scents that include Winter Magic & Glow, Holiday Bloom & Cheer and Cranberries & Frost. All of the scents are available in Air Effects, Candles, Set & Refresh, Fabric Refresher and NOTICEables and are available online and at retailers such as Target and Walmart with an MSRP ranging from $2.99 to $9.49. You can find out more about the Febreze line of products on their website.
Disclosure: I was not financially compensated for this post. I received a sample of the product for review purposes. The opinions are my own, based on my personal experience with the product.