Disney Fairies Fashion Boutique Review #DisneyFairies
Disney Fairies Fashion Boutique is a free app available for download for the iPhone and iPad. The game was released on September 6th, 2012, and both my daughter and I have been playing it for over a month now.
Disney Fairies Fashion Boutique takes you into Pixie Hollows, where the player can design his or her own fairy, choosing all of the fairies' attributes (hair, eye, and skin color, as well as the shape of the fairies wings) and a fun fairy name. It took just a few minutes to download, and then I was on my way to designing my fairy and getting to work in my fairy fashion boutique.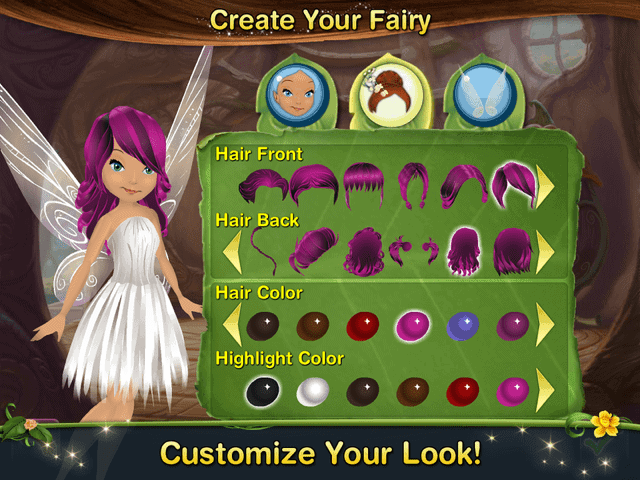 If you have seen the Tinker Bell movie from 2008, you will be very pleased to see how true it matches to the movie. For example, when you first create your fairy and she arrives in your fashion boutique, she is wearing the white arrival day dress (you can always make your fairy a new dress later). Additionally, the fairies who come to your boutique to shop will sometimes request a certain fashion product to match their talent; each fairy in Tinker Bell's world has a special skill set.
Basic Game Play
Once your fairy is fully designed and named, game play starts. Disney Fairies Fashion Boutique is a never ending game; you keep earning Pixie Diamonds, more cloth with which to make clothes and accessories, and of course, Pixie Dust! You can spend your Pixie Dust in the Market to buy more mannequins, upgrade your boutique, change your theme, or select new wallpaper or floors. If you are in need of Pixie Diamonds, Pixie Dust, or Materials, you will need to purchase these items with real money through your iTunes account.
Tinker Bell will start you out with some Pixie Dust and materials, but from there it is all up to you to earn your keep and level up your fashion boutique. Your fairy has 5 helpers who will make the clothes other fairies order from you. When the order is ready, you then invite the fairy back to your boutique to pay for her order. The more orders you're able to fulfill, the faster you'll be able to level up your boutique.
I love the Disney Fairies Fashion Boutique because I don't feel the same amount of performance pressure that I did with games like Cake Mania and Diner Dash (I actually got so involved in those games that I'd yell at my Nintendo DS screen if something did not go my way). Even though my daughter is only 4, she is able to play on a basic level. She can't read, so all she does with her account is design clothes, change her fairy's appearance, and dress and undress her mannequins.
Disney Fairies Fashion Boutique also doesn't suck you into hours of game playing. There is a fair amount of real time waiting; some of the clothes you design can take as little as 30 seconds before the order is ready, but others can take up to 45 minutes. You can close out of the app and then return to it later to sell the design to the waiting fairy. You are given a time limit for when you need to have an order completed by (at least a full 24 hours, but as you level up, you get more time), so I suggest checking in at least twice a day.
My Tips and Tricks
Use your Pixie Diamonds sparingly. I prefer to hoard mine, actually. The purpose of these beauties is to encourage your helpers to work faster on their clothes making. I'm in no huge hurry to level up my boutique, so I'd like to save them.
Do not feel obligated to accept every order that comes into your boutique. This game is nothing like Diner Dash or Cake Mania, where you are docked points on not being able to perform quickly enough. Take your time so that you truly have fun with your game experience! The fairies are very forgiving; if you make a mistake, they are gracious and offer to return when their order is ready.
Only accept an order if you have a helper available to make the item requested. You have 5 helpers, but not every single one makes the same kinds of things. Before you agree to the order, check in to the Helpers tab and see if you have him busy working on something else. If you do, you might want to skip that fairy's order. Your helpers also have to sleep in between orders, and you'll have to spend some of that hard earned Pixie Dust to wake them up if you want them to work on another order.
In between orders, design clothes and accessories for your fairy or to dress the mannequins. It never hurts to have extra clothes on hand! You may actually want to design a few things before you start getting customers; you never know which fairies might request a style and color that you've got ready made.
Check out the FREE Disney Fairies Fashion Boutique app and let me know what you think!
*I received a $10 iTunes gift card to use for game play with this free Disney app. Images are used with permission of Disney. All thoughts and opinions expressed are my own.*