One of the most important necessities for a nursery is a great diaper disposal system but with so many options out there it can be hard to know just which one to choose. One diaper pail certainly is not as good as the next! I am sure many of the experienced mothers out there can relate to the odour emanating from their diaper pail after 2-3 days of use or having to stick your hand down into a pile of dirty diapers at every change. Not very nice.
I was given the opportunity to review the Diaper Genie® Elite Diaper Disposal System. As soon as it arrived I got the box open and had it completely assembled and ready to go within about 5 minutes.
I immediately loved the ergonomic design featuring a foot pedal. The foot pedal definitely makes life easier especially combined with the height of the Diaper Genie® Elite. There is no more bending down to stick my hand into a dirty pile of diapers. You simply step on the pedal and the unique double-clamp air-lock opens for you to drop the diaper into the pail. As if that weren't awesome enough on its own, when the pail opens for disposable, the old diapers are closed off by the air-lock so there is no escape of odour while you are stepping on the pedal. (As long as you step down hard enough that the air-lock clamps completely) Once you release the pedal the new diaper is dropped in among the others.
The pail utilizes a 5-layer refill film to help seal in odours and germs. I wasn't sure how well it would work when I realized the "bag" is created by pulling the film down the refill "hoop" and tying off the bottom. I was pleased that despite the bag getting pretty full and heavy that the film held up really well and did not break. Each refill can hold up to 270 newborn diapers, and I found it was over a week before I needed to replace the bag with our size 1 diapers.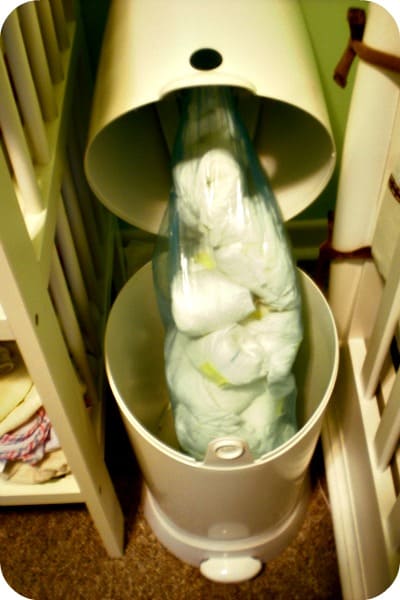 When it came time to change the bag I was surprised just how easy it was. A push of the button and the pail opens up. You pull down on the film and cut the bag off using a child safe cutter installed in the pail and then tie it off.
I was also sent a Diaper Genie™ Portable Diaper Bag Dispenser. This handy clip-on solves the problem of just what to do with dirty diapers away from home.
It is small and easily clips on to your diaper bag so it is always handy when you need it on the road. It holds up to 25 lavender scented bags to help seal away the scent of used diapers until a disposal is found.
I loved that I could easily pull out a bag to put the used diaper in and not worry about dirty diapers stinking up my diaper bag or stroller.
Diaper Genie II and Diaper Genie II Elite™ diaper pails are available at major department stores across Canada for a suggested retail price of $35.99 and $45.99.
Disclosure: I was not financially compensated for this post. I received a sample of the product for review purposes. The opinions are my own, based on my personal experience with the product.
Elizabeth is an IT Professional and a Family Review Blogger at Frugal Mom Eh. She enjoys writing about a variety of topics including parenting and frugal living. When not writing she enjoys playing with her daughter 'Keira', painting and reading.