Brave Ultimate Collector's Edition Review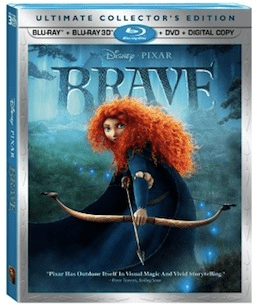 Title: Brave (Five-Disc Ultimate Collector's Edition: Blu-ray 3D / Blu-ray / DVD + Digital Copy)
Release Date: November 13, 2012
About the Movie:
An original and thrilling journey set in the ancient and magical Highlands of Scotland, "Brave" follows the heroic journey of the headstrong, young adventurer Merida. Determined to carve her own path in life, Merida confronts tradition and defies an age-old custom that inadvertently unleashes chaos, and forces her to discover the true meaning of bravery. The 5-Disc Ultimate Collector's Edition (1 Blu-ray 3D + 2 Blu-ray Discs + 1 DVD + 1 Digital Copy) has something for everyone – from the home entertainment enthusiast who demands the highest quality, state-of-the-art technology offerings, to the family who enjoys the interactive and engaging bonus features that only Blu-ray can provide – making this unique and beautiful film a "must add" to any home media collection.
BLU-RAY – DISC 1 INCLUDES:
"La Luna" Theatrical Short – Fans will love this charming short that accompanied the film in theatres. It follows a young boy on his first night working the family business alongside his father andgrandfather.
"The Legend of Mor'du" Short – This rousing new bonus short film will give fans the chance to delve deeper into the legend behind Mordu, as told by the eccentric witch who transformed him.
Brave Old World – Fans will watch as members of the "Brave" production team investigate Scotland, exploring its land, culture, people and dialects. The research they gathered was brought thrillingly to life in thefilm. Also, fans will hear what actress Emma Thompson (voice of Queen Elinor) thinks of Pixar's take on her homeland.
Merida & Elinor – With the creation of Merida and Elinor, the Pixar filmmakers delved deep into the relationship between mother and daughter. Highlighting contrasts in character design, clothing, animation, voicing, even hairstyle, watch how the filmmakers explored this most important of relationships.
Bears – Take a look inside the art and design behind the bears in "Brave." Each of the bears, gentle Mum-Bear and terrifying Mor'du, demanded a different approach to creating their physical appearance and personality.
Brawl in the Hall – A fascinating and hilarious inside look at the process of creating "Brave's" fighting Scots, through animation, crowd simulation and fight choreography – not to mention a room full of grunting men whose vocal chortles added authenticity to the raucous scene.
Wonder Moss – Fans will explore how "Brave's" technical artists examined the real Scottish countryside and studied the laws of nature, then turned thesefindings into computer codes that would blanket Merida's Scotland in lush moss, lichen and bracken.
Magic –The magic and mystery of Scotland is revealed to fans in this charming feature about the legends – from mystical potions to the will-o'-the-wisps – seen in "Brave."
Clan Pixar – At Pixar, getting into character is a team effort. From making Haggis to Kilt Fridays to celebrating the Scottish poet Robert Burns, fans will see how the "Brave" production crew truly embraced Scottish themes and customs fueled the Pixar crew throughout the creation of "Brave."
Once Upon A Scene – A closer look at the evolution of the storylines throughout the production of the film, including alternative openings to the film and many deleted scenes.
Extended Scenes – Three separate scenes are highlighted in their extended form. Director Mark Andrews discusses the decision making process that led to the shortened versions of these scenes.
Director Commentary
BLU-RAY DISC 2 INCLUDES:
"Fergus & Mor'du" An Alternate Opening – Once upon a time, "Brave" had a different opening scene. Eventually cut from the film, fans can see it in its entirety in this bonus feature narrated by the film's director Mark Andrews.
Fallen Warriors Montage – A selection of deleted shots that were cut from the film late in production are presented to fans in various stages ofcompletion through a video montage narrated by director Mark Andrews.
Dirty Hairy People – Fans will enjoy this uproarious bonus feature discussing the development of "Brave's" Scots – including the design of their hair, attire, and dirt-crusted physiques.
It is English…Sort Of – This bonus feature helps fans interpret some of the more Scottish lines in the film, thanks to the real Scottish actors who play the key characters and contributed their own dialects and sayings.
Angus – A look at Merida's most trusted companion, Angus, a mighty Clydesdale.
The Tapestry – Fans will learn the story behind this embroidered emblem of family unity, which was lovingly crafted by "Brave's" team of artists.
Promotional Pieces – This bonus includes promotional clips for "Brave," including: "Feast Yer Eyes," "Relics," "Clan DunBroch," "Launch," and more.
Art Gallery – A selection of breathtaking art from the creation of the film, showcasing characters, sets, scenes and stunning landscapes.
Wee Gaffes – A video montage of simulation, animation and shot bloopers.
Renaissance Animation Man – Get a look at Director Mark Andrews' love of Scotland, sword-fighting, music and more!
Teasers and Sneak Peeks
BLU-RAY 3D DISC INCLUDES:
"La Luna" Theatrical Short
DVD Includes:
"La Luna" Theatrical Short
"The Legend of Mordu" All-New Short
Director Commentary
My Review:
I had been anticipating watching Brave since I first heard about it many months ago. I knew it would be Pixar's very first period piece and that it featured a heroine with fiery red hair. Bridget and I sat down to watch Brave this past weekend and we both fell in love with the story and its characters. 
First of all, the animation in Brave is something else! I was blown away with how realistic it was! From the sweeping views of the Scottish highlands to Merida's 1500 strands of curly, wild hair, my eyes were glued to the TV set in fascination.  
My mom's side of the family is Scottish and we still have family that lives there. The music featured in the movie reminded me of family reunions with the bagpipes and Celtic music playing. Actually, some of the songs sounded like music we hear in the Maritimes (where I currently live)! 
In Brave, we meet Princess Merida, who is not your ordinary princess. She's a free spirit with a love of archery and resents doing her required "princess duties", but does them for her mother's sake.  However, when she learns that she is about to be betrothed, she emphatically resists! In her determination to choose her own fate, she seeks help from a witch in the forest. The witch casts a spell to "change her fate". Unfortunately, the spell has some serious consequences and doesn't turn out the way Merida had planned. She spends the rest of the film working on fixing the damage she has done.
Brave has some intense moments that had me holding my breath. The scene with her and the bear, Mor'du, had sitting tense in my seat worried that she wouldn't be able to escape. It's a fast paced movie with action at almost every turn so the hour and half that it was on just flew by for me. I even shed some tears at a scene towards the end of the movie. It really touched my heart and demonstrated the powerful bond that families have. 
Disclosure: I was not financially compensated for this post. I received a sample of the product for review purposes. The opinions are my own, based on my personal experience with the product.