Beautiful Silver Jewelry Review
I have several leather wrap bracelets from Beautiful Silver Jewelry in my collection which I love but the designer has truly outdone herself with the gorgeous "Selene" Hematite Gemstone Wrap Bracelet on Silver Genuine Leather. This handmade wrap bracelet is so long that it can be wrapped up to 5 times around the average sized wrist or it can even be worn as a necklace.
The trendy "Selene" bracelet is absolutely breath-taking with stunning hematite beads on a real leather rope that is soft and comfortable to wear. It is so versatile because it can be fashionably worn with a pair of dark jeans and top for a romantic evening out or for special occasions and to accessorize business attire.
Beautiful Silver Jewelry is passionate about creating beautiful, attractively priced jewelry for every budget and uses only high quality materials to design each piece. All of my bracelets have lasted a long time despite frequent wear because of the excellent craftsmanship. The adjustable loops and silver-plated button clasp make it easy to put on and keep it securely in place.
With attention to every detail, your Gemstone Leather Wrap Bracelet will arrive from Beautiful Silver Jewelry wrapped in a pretty organza bag and placed inside a silver gift box with silver bow so it is ready for gift giving. When you place your gift order I highly recommend selecting an extra bracelet for yourself because otherwise you will find it so beautiful you might just end of keeping it instead of giving it as intended.
The Selene Leather Wrap Bracelet from Beautiful Silver Jewelry is available for purchase for only $49.95 which is an excellent value in my opinion for such a lovely, hand-crafted piece. While I love all of my pieces from the Beautiful Silver Jewelry collection, this is my personal favorite!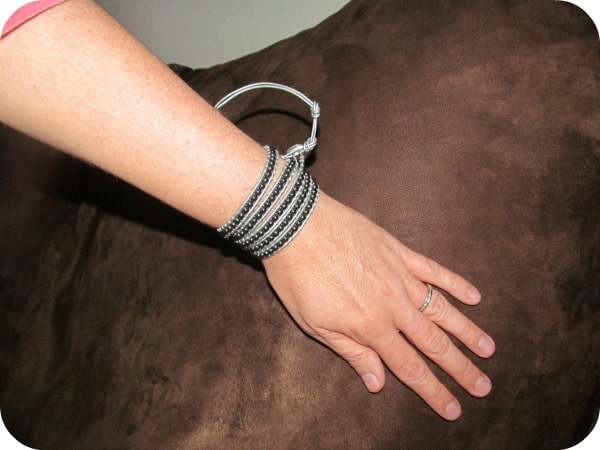 You are invited to visit Beautiful Silver Jewelry to browse the entire fashion jewelry collection and select your favorites for the holiday season! From necklaces, bracelets, rings and gemstone, crystal, steel, leather and sterling silver jewelry to men's jewelry there is sure to be something special for everyone on your "nice" list!
Disclosure: I was not financially compensated for this post. I received a sample of the product for review purposes. The opinions are my own, based on my personal experience with the product.