Wreck-It Ralph Review #DisneyMoviesEvent
 Wreck-It Ralph comes to theatres everywhere on November 2nd!
Synopsis:
Walt Disney Animation Studios and Emmy®-winning director Rich Moore (TV's "The Simpsons," "Futurama") take moviegoers on a hilarious, arcade-game-hopping journey in "Wreck-It Ralph." Ralph (voice of John C. Reilly, "Talladega Nights: The Ballad of Ricky Bobby," "Step Brothers") is tired of being overshadowed by Fix-It Felix (voice of Jack McBrayer, "30 Rock"), the "good guy" star of their game who always gets to save the day. But after decades doing the same thing and seeing all the glory go to Felix, Ralph decides he's tired of playing the role of a bad guy. He takes matters into his own massive hands and sets off on a game-hopping journey across the arcade through every generation of video games to prove he's got what it takes to be a hero.
On his quest, he meets the tough-as-nails Sergeant Calhoun (voice of Jane Lynch, TV's "Glee") from the first-person action game Hero's Duty. But it's the feisty misfit Vanellope von Schweetz (voice of Sarah Silverman, "The Sarah Silverman Program") from the candy-coated cart racing game, Sugar Rush, whose world is threatened when Ralph accidentally unleashes a deadly enemy that threatens the entire arcade. Will Ralph realize his dream and save the day before it's too late? "Wreck-It Ralph" crashes onto the big screen on November 2, 2012, in Disney Digital 3D™ in select theaters.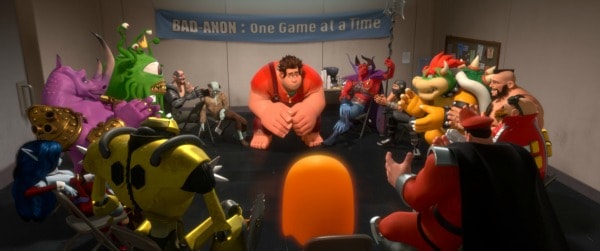 My Review:
I have been waiting for this movie to come to theatres ever since I first watched it at the #DisneyMoviesEvent at the end of September! My kids and John and are going to LOVE Wreck-It Ralph! I went into to screen Wreck-It Ralph unsure what to expect. I knew it was a movie about video games after seeing the previews and was curious to see how I would like it. After watching Wreck-It Ralph, all the bloggers (myself included) raved about how great it was! I think kids and adults alike will love this film.
The main character is Wreck-It Ralph who is the villain in the Fix-It Felix, Jr. arcade game. Basically Felix fixes everything after Ralph destroys it and the process repeats. Wreck-It Ralph has an epiphany and realizes he doesn't want to be feared and hated. I actually felt a bit sorry for Wreck-It Ralph especially when he saw that he wasn't invited to a party that all the other characters in his game were having. He decides to crash the party and the characters were very fearful. It made me feel sorry for Ralph because he only wanted to fit in. Ralph ends up destroying the cake and breaking things at the party inadvertently. He's just so big and powerful that he can't help himself.
Ralph escapes his game and the viewer gets to experience new video game worlds as we follow his journey. Hero's Duty, is a shooter game, with more realistic game animation. It reminded me a little of John's Call of Duty game. There he meets Sgt. Calhoun and helps her fight the alien invaders. 
My favourite world was Sugar Rush where everything is sweet enough to eat. The entire world is made of candy in bright, pretty colours. It looks good enough to eat! Sugar Rush is a car racing game where Ralph finds an ally and friend in Vanellope von Scheweetz. Vanellope is an outcast too in her game and has been told by the popular game characters that she is a "glitch". For this reason, Vanellope can never leave Sugar Rush no matter how hard she tries. 
I grew up playing video games both at home and at the arcade at our local mall. Each world in Wreck-It Ralph was unique and reminded me of games I used to play especially Fix-It Felix, Jr. That particular world reminded me of Mario Bros. from the 80s when we first got a Nintendo. The world is very square and pixelated just like Mario Bros was. It made me feel a bit nostalgic for my childhood because I have such fond memories playing video games with my sisters and cousins.
Wreck-It Ralph has all the right elements of a great movie. It's funny, exciting, action-packed and perfect film for the family to watch and enjoy. Go see it on November 2nd!!
"Like" WRECK-IT RALPH on Facebook
"Follow" WRECK-IT Ralph on Twitter
Visit the official site
WRECK-IT RALPH smashes into theaters everywhere on November 2nd
*I received an all expenses paid trip to Los Angeles in order to participate in this event. All thoughts and opinions expressed in this post are entirely my own.*