My Wreck-It Ralph Voice Recording Session #DisneyMoviesEvent
Last week, I posted about my experience at the Wreck-It Ralph Press Day on my trip last month to Los Angeles. Today, I'm sharing with you my very first voiceover! It's funny because I was sooooo nervous about it, but it ended up being one of my favourite parts of the trip. I'm normally a very shy person until you get to know me and extremely uncomfortable with any kind of public speaking.
The bloggers were split into groups of three and my group's first stop was the Voice Demonstration inside a real recording booth. Coaching the bloggers was Storyboard artist/voice of Gene/voice of Zombie Raymond Persi and recording booth technician Gabe Guy. This was THE booth that the stars of Wreck-It Ralph, Sarah Silverman and John C. Reilly, used! I thought maybe we would watch a voice demonstration and see how it was done. To my surprise, I learned that we were going to be reading the lines as one of the characters! I was shaking because I was so nervous!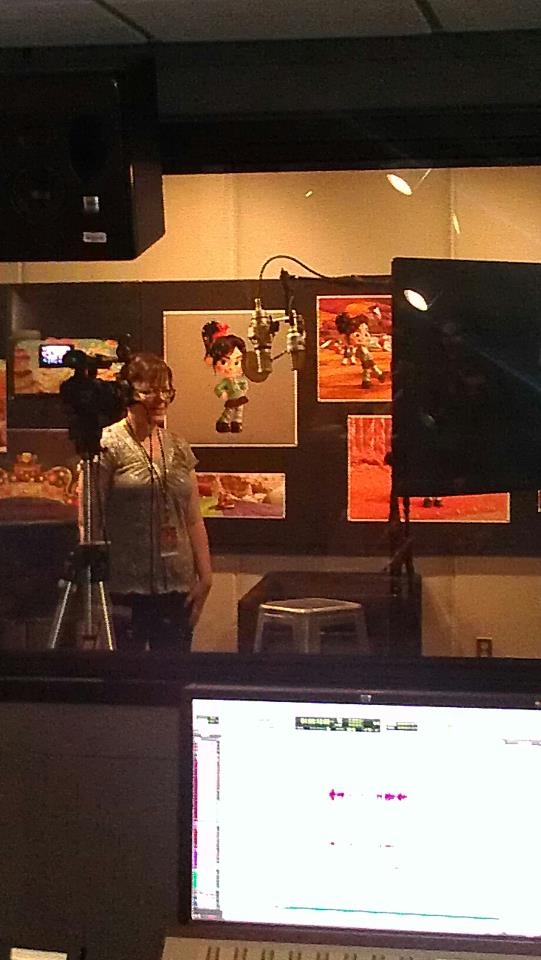 Photo Credit: Marshall Weinbaum
I took a few deep breaths and made my way into the recording booth. I would play the part of Venelope and had a few lines I had to read. They showed up on the TV screen in front of me and I just had to read them when it was my turn to speak. It actually turned out to be pretty easy. Plus it was fun! I surprised myself  and really got into the part.
Here I am as the voice of Venelope.
Check out what it looks like to be in a recording booth:
My daughter didn't believe me when I told her that was me as Venelope! This will be an experience I will never ever forget.
"Like" WRECK-IT RALPH on Facebook
"Follow" WRECK-IT Ralph on Twitter
Visit the official site
WRECK-IT RALPH smashes into theaters everywhere on November 2nd
 *I received an all expenses paid trip to Los Angeles in order to participate in this event. All thoughts and opinions expressed in this post are entirely my own.*