Tinker Bell and Periwinkle Meet-and-Greet #DisneyFairies #DisneyInHomeBloggers
I have been to Disneyland only four times in my life, and it was only this last time as part of the #DisneyInHomeBloggers group that I finally got to meet my favorite Disney character, Tinker Bell.
Tinker Bell's newest adventure, Secret of the Wings is coming to Bluray/DVD on October 23rd, 2012, and we had the opportunity to see it before anyone else. I knew from the moment that I saw the first ad on Facebook for the film (without even reading what it was about) that this was going to be an amazing film. And sure enough, I adored it! I couldn't wait to share the movie with Zoe, but more about that another time.
In addition to meeting Tinker Bell, we also got to meet her sister, Periwinkle. She is every bit as beautiful and charming as Tinker Bell. I have to admit I was a bit skeptical about Tinker Bell getting a sister, but the story in Secret of the Wings is so wonderful and fits in perfectly with everything I know about Tinker Bell from the original J.M. Barrie play and novel as well as Disney's adaptation.
Before we were introduced to Tinker Bell and Periwinkle, we enjoyed a delightful lunch at Aladdin's Oasis in California Adventure, which hadn't been built yet the last time I'd been to Disneyland in 2000. (Find out more about the events that take place at Aladdin's Oasis.)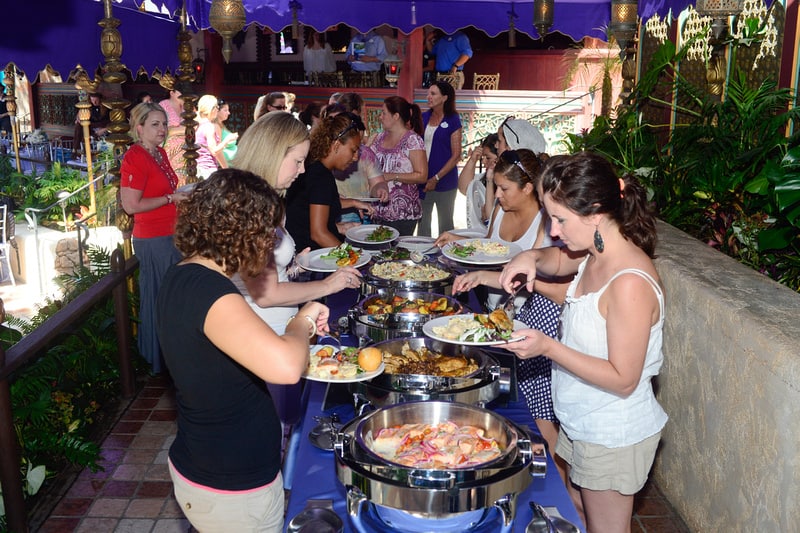 Instead of an Aladdin themed stage, it was transformed into one of the most beautiful scenes from Secret of the Wings, where the edge of Tinker Bell's home meets the mysterious Winter Woods, where Tinker Bell and her friends are forbidden to go.
The plot and the story of Secret of the Wings was still a mystery to us (we didn't see the film until the following day when we visited Toon Studios), so we had no idea why Tinker Bell had never been into the Winter Woods, or why Tinker Bell's and Periwinkle's wings glowed.
Finally we were introduced to both Tinker Bell and Periwinkle, who were kind enough to pose for photographs with each of us. I even took the opportunity to give both Tinker Bell and Periwinkle a huge hug!
You and your family members can now meet both Tinker Bell and Periwinkle at Disneyland and the Magic Kingdom Parks during the fall and winter months. Tinker Bell will be wearing her very own winter-themed outfit that she made all on her own!
When you visit the Disney park of your choice, be sure to check out the schedule for where and when they will appear.
*I received an all expenses paid trip to Los Angeles in order to attend this press junket on behalf of Disney and Click-Comm. Photos are used with Disney's permission. All thoughts and opinions expressed are entirely my own.*