Nature-Cide Review
Living in Florida, we are bombarded by many different types of insects and pests. We had been limited in our insect elimination methods because my daughter has severe asthma and we do not use any chemical pesticides which can trigger her respiratory issues. Therefore, I was thrilled to discover Nature-Cide™ which is a line of all natural insect control that is safe to use around children and pets.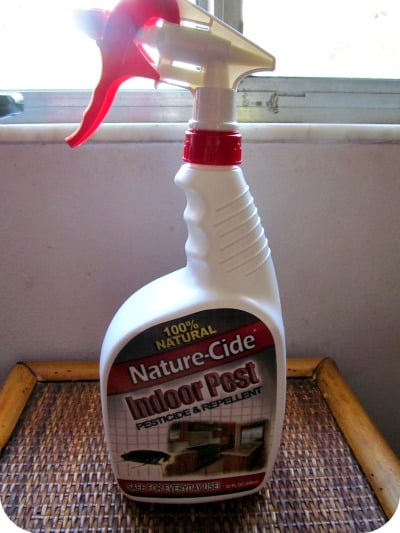 The Nature-Cide™ Indoor Pest Pesticide & Repellent ($19.95) is 100% natural and it is the safer alternative for everyday use in our home. It is chemical and DEET-free but still very effective in getting rid of palmetto bugs, ants, roaches and other insects. In fact, it even notes on the bottle that it will even "stop rodents in their tracks" though thankfully, we have yet had to test this out. Indoor Pest Pesticide & Repellent is made of essential oils including Cedar oil, Citronella Oil, Clove Oil, Garlic Oil, Mint Oil, Peppermint Oil, Cinnamon Oil, Rosemary Oil and other naturally derived repellents. It has a very pleasant, not overwhelming scent and it is non-staining on surfaces. We used this on a line of ants that was seeking shelter after a heavy rain by spraying it around the sliding glass door where they were entering our home and after one application we didn't notice any more ants. We also had a palmetto bug in our bathroom that was killed after a small squirt of this product. My husband sprayed a very small amount around the window and shower drain and we have had no more encounters with this pest.
For all indoor and outdoor use, Nature-Cide™ also offers the All Purpose Pesticide & Repellent with a fresh lemon scent. It is also safe to use around children and pets and my daughter didn't have any asthma related issues after we sprayed this product. It was very effective on the fire ants in our back yard and they even moved their hill (sorry neighbors….please feel free to borrow our Nature-Cide™). My husband also sprayed this around the perimeter of our back screened in porch where we suspect a mouse may be trying to make a nest. Since then….no evidence of our unwanted rodent visitor.
I am very impressed with the results we have obtained by using Nature-Cide™ products and I love the fact that it is safe to use around my family and our pets. You are invited to visit the Nature-Cide website where you can purchase any of their pesticides and repellents in their online store and Amazon.com.
Disclosure: I was not financially compensated for this post. I received a sample of the product for review purposes. The opinions are my own, based on my personal experience with the product.