My Experience at the Wreck-It Ralph Press Day #DisneyMoviesEvent
On Day Three of my recent trip to Los Angeles for #DisneyMoviesEvent, we arrived bright and early at Walt Disney Animation Studios for the Wreck-It Ralph Press day. Our morning was filled with screenings of Wreck-It Ralph and the animated short, Paperman as well as group interviews with the producer and director of the films. I'll be posting more about that in a couple weeks.
After a delicious lunch on the outdoor patio at the studio, the bloggers headed inside for the Sugar Rush Race Car Building Competition. Sugar Rush is one of the game worlds in Wreck-It Ralph and it's a land that is full of sweets and treats! If you have a sweet tooth, you would have loved to have seen the set up for the competition. There was a HUGE amount of candy and confection laid on a table for us to build our very own race car with! I don't eat that many sweets so I abstained, but I know some of the other bloggers couldn't resist!
The bloggers were to build a race car made completely out of the candy and our creations would be judged by the art director and team of Wreck-It Ralph. The winner would be sent a Wreck-It Ralph prize package! Now, I'm definitely NOT an artist. Art was my very worst subject in school. I knew I wouldn't win, but I did try my very best. My "race car" was pretty sad compared to some of the elaborate creations the other bloggers made. Some of them were amazing! I was impressed. Of course, I didn't win, but I had fun and that was what mattered.
Here's my attempt…don't laugh!
Some of the completed creations…
After the competition, we were taken on a guided tour of the Walt Disney Animation Studios. What I found most interesting was how they had themed "pods" for each movie they are working on. For example, there was a section for Wreck-It Ralph with decor that fit the movie like the arcade games that you can actually play and statues of the characters.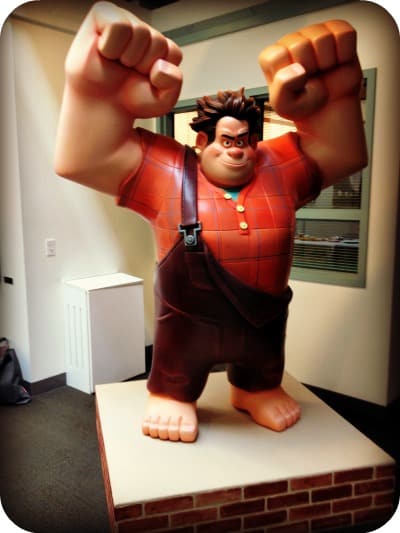 We even got a sneak peek at behind the scenes on the upcoming 2013 film, Frozen. After getting some inside scoop, I'm super excited to watch this one when it comes out next year!
After the tour, we were split up into three groups for the next segment of our day. My group started with a Voice Demonstration in the recording booth and I cannot wait to show you my recording next week. I think that was the best part of the day!
Our group's second stop was a lesson on Animated Acting. We were shown a presentation by Art Director Mike Gabriel with Visual Development  and artist Lorelay Bove from Wreck-It Ralph and learned how they created the world of Sugar Rush and other game worlds in Wreck-It Ralph. I found it interesting that they travelled to Europe for inspiration. For the Sugar Rush world, they visited chocolatiers and other candy stores over there and photographed everything. They also used Japanese candy as inspiration too. They said whenever they were stuck on something, they would look back at these photographs they took and it helped give them a boost of inspiration. I was blown away by how talented they were!
Our last session was a tutorial on How to Draw Animated Characters by Head of Animation on Wreck-It Ralph, Renato dos Anjos and Animator Kira Lehtomaki. They showed us step-by-step how to draw Wreck-It Ralph's fist and Venelope from the film.
They also showed us how they make the expressions on the characters look real. One of the animators filmed herself reading the lines and then factored her expressions into the animation of the character to make it more believable. It was so interesting to see!
After our sessions, we stopped for a snack and then went for a walk to visit the Disney store. On the way, we stopped for a group photo in front of the Old Animation Building which happens to be the spot that Saving Mr. Banks will be filming in the fall.
Photo Credit: Marshall Weinbaum
We finished off the day with a screening of Monsters, Inc 3D (review to come!) and headed back to our hotel. I was exhausted, but I had such a great time and it was an experience I will always treasure.
"Like" WRECK-IT RALPH on Facebook
"Follow" WRECK-IT Ralph on Twitter
Visit the official site
WRECK-IT RALPH smashes into theaters everywhere on November 2nd
 *I received an all expenses paid trip to Los Angeles in order to participate in this event. All thoughts and opinions expressed in this post are entirely my own.*