Mars Canada Helps Local Hockey Rinks
Hockey fans across the nation are well aware of what's currently happening with the NHL Lockout. I always associate winter with hockey games on TV and think it will be an adjustment to get used to no hockey nights in our home. However, just because there's no NHL does not mean the end of hockey. There's still the kid's teams and the local Junior A teams so fans can still get their fill of the sport. My girls don't play hockey, but I have cousins and friends whose kids still do. And then there's my dad….he plays for in the old timers league and he is well into his 50s.
Source: Pembroke Daily Observer
Mars Canada recently commissioned a survey and learned that more than 90% of Canadians live near an ice rink, but that most are unaware of the current state of their rink. This is where Mars Canada is stepping in to help. They have found five ice rinks in Canada that are in need of some TLC and are pledging up to $100,000 to fix them up.
They need our help though! Right now when you purchase any specially marked Mars bars, you will find inside a pin inside the wrapper. Enter this number on the Mars website to activate a $5 contribution towards the effort.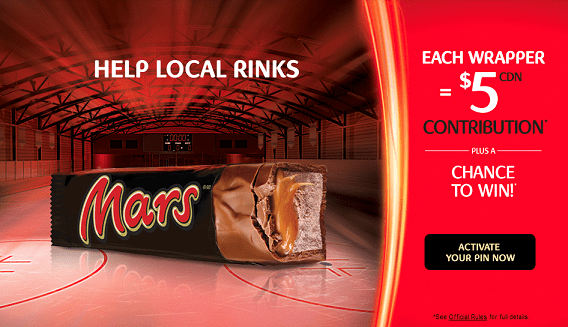 It's really easy to do and only takes a second. If it's your first time, you must register on the site and then input your pin found on the inside of your wrapper.
There's also Instant Win prizes! In fact, there's 986,976 Mars coupons for a free 52g bar being given away. I haven't won one yet, but maybe you will!!
Next time you are out at the store, grab a Mars bar to enjoy and then save the wrapper for the pin and help this worthwhile cause! It's something to keep our mind off what's happening with the NHL right? Let's help improve hockey rinks in Canada!
Disclosure: I was not financially compensated for this post. I received a sample of the product as compensation. The opinions are my own, based on my personal experience with the product.