Decorating for Halloween with The Home Depot
Do you decorate for Halloween? I do a little bit and each year I add a few more Halloween decorations to my collection. I always love walking around the neighbourhood on Halloween night and checking out all the houses and yards done up…sometimes very elaborately too! It seems to really help set the mood for the scariest night of the year.
Today John and I headed out to The Home Depot for some craft supplies for a fall craft (thanks to The Home Depot Pinterest) that I'm making this weekend and discovered all the neat Halloween decorations they sell there. When we walked in, the employee greeting us at the door told us where they were located, but we could see them almost right away.
The Halloween Inflatables (aka Halloween in a box) were the first ones we saw because you really cannot miss these! They were big! I snapped a couple pictures of a few of them that were on display.  Our front yard is just a lawn with no character so putting one of these inflatables there would really make our home stand out for the trick or treaters. I like that they are easy to use with no mess. They are priced at $59.97 for the Animated Inflatables, $39.97 for the 4ft Inflatables and $39.97 for the Large Inflatables.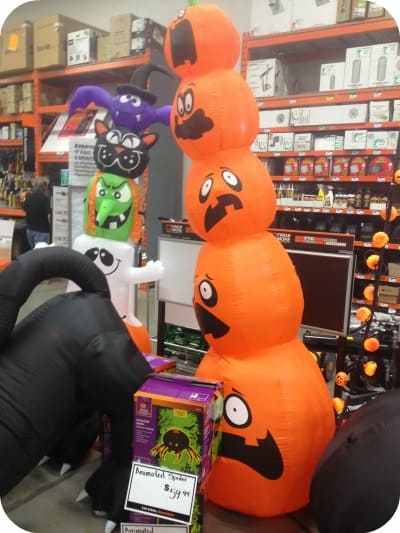 We hang Christmas lights, but I would have never thought to hang Halloween lights! In their Eerie Electrical section, I saw these Pumpkin and Skull Light Strings that would be perfect to give a scary glow to our front porch. You could also use them to decorate your house for a Halloween party. They also sell Strobe Lights that you could use as a scary special effect for the partygoers/trick or treaters. As for prices, the Decorative 10ct Lightset is $7.88, Basic Light Set 50ct is $7.88 and Strobe Lights are $4.98. Very affordable!
If skulls and spiders are too creepy and you want to still get into the Halloween spirit, you can buy some of their seasonal stands. In our store, these were located right at the entrance so I didn't have a chance to snap a picture of them. They have a Scarecrow Mum Stand (ARV $18.83), 6' Scarecrows (ARV $9.42) and Halloween Yard Stakes 36" and 42" (ARV $8.82).
These Halloween products will available for a limited time this fall at The Home Depot stores across Canada and online at www.homedepot.ca. I'll likely pick up one of the inflatables (maybe two!).  I encourage you to check out The Home Depot's selection of Halloween products on your next visit and see what fits with your Halloween decor.
 *Disclosure: I was financially compensated for this post. Opinions expressed are 100% my own.*