The Aristocats Blu-ray Review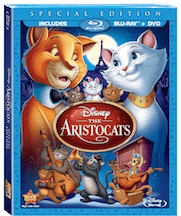 Title: The Aristocats (Two-Disc Blu-ray/DVD Special Edition in Blu-ray Packaging)
Disney's 1970 "Jazzy Classic", The Aristocats, arrived on Disney blu-ray combo pack on August 21st, 2012. My 4-year-old daughter loves all of the Disney films with talking and singing animals, and I count The Aristocats as one of her favorites.
Duchess (Eva Gabor) and her three kittens are living a very comfortable existence in Paris with their mistress, whom they call Madame (Hermione Baddeley). Madame is getting up in years, and is finalizing her will, much to the delight of her loyal butler, Edgar (Roddy Maude-Roxby), who is hoping that she will compensate him generously for his years of service in his will.
Edgar overhears Madame discussing her will and her legacy with her lawyer, and is angered to learn that her cats will inherit everything on her passing, and only once they have lived out their lives will he get anything of hers. Edgar devises a plan to get Duchess and her kittens out of the way now so that perhaps she will have to change her will.
Through a series of hilarious accidents, Duchess and her kittens unwittingly escape Edgar's plans for them. Duchess considers another way of life when she meets the alley cat O'Malley (Phil Harris), but chooses to find her way back to Paris because of Madame.
Animal movies are always hard for me because I tend to have more empathy for animals than I do humans–and especially when the animals can talk like humans and are given human emotions. Thankfully, most Disney movies are pretty "safe" and will not end with me in a flood of tears. I love that everyone in The Aristocats gets their happy ending–except for maybe Edgar. I thought he deserved far worse for his betrayal, but Disney keeps it light and fun in this family film for all ages.
Bonus Features:
The Lost Open Richard M. Sherman, a song writer for Disney studios, introduces some lost footage from The Aristocats that includes a lost character and song sequence. Richard M. Sherman wrote the song with his brother Robert, and this was one of the rare times that they sang together. The two-part song and character Elvira did not make it into the final film.
Oui Oui Marie Music Video This is a remix pop-style music video devoted to Duchess' adorable kitten Marie with footage from The Aristocats.
Classic Deleted Song: "She Never Felt Alone" Richard M. Sherman introduces this song. He wrote several of the songs for The Aristocats with his brother, Robert. This was a two-part song that expressed Madame's love for her cats. The song is played along with the original storyboards for this cute scene/song.
The Sherman Brothers: The Aristocats of Disney Songs Richard and Robert Sherman talk about the process of creating music for The Aristocats. Also contains footage of the brothers at Disney studios alongside Walt Disney.
The Great Cat Family (Excerpt) Walt Disney introduces an episode from his "Wonderful World of Color" series. This episode contains facts about the cat family and its beginnings in Egypt, with a dose of humor, animation, and music.
Classic Music and More All of the songs from the film The Aristocats with words across the screen so anyone can sing along.
Classic Bonus Short A Figaro short called "Bath Day". Minnie Mouse is trying to give Figaro a bath, but he fights her on it. Figaro wants to be exact the opposite of an aristocat!
Disclosure: I was not financially compensated for this post. I received a sample of this product for review purposes. The opinions are my own, based on my personal experience with the product.