Ontario Residents Save Money on Car Insurance with Insurance Hunters
Post brought to you by Insurance Hunter. All opinions are 100% mine.
Both of my parents work in the insurance industry so I like to think I know a thing or two about the subject. I also have experience getting insurance on my own once I moved out of my parent's house and started living independently from them. I remember pulling out the yellow pages and spending a few hours calling local insurance companies for quotes on home & auto insurance. It was exhausting! You need to repeat the same information over and over again for each place you go. I dreaded when it was time to shop around for a better rate because of how tedious the proccess was.
Things are MUCH easier now for Ontario residents thanks to Insurance Hunter, an online insurance brokerage that provides free auto, home & travel insurance quotes from Ontario's leading insurance companies. I'm originally from Ontario and all my family and friends still live there so I'm definitely going to be telling them about this site.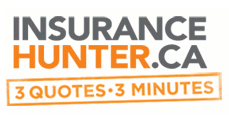 Many Ontarians are shopping for Auto Insurance right now and I recommend they get a quote from Insurance Hunter. Here's a five reasons why:
1. Convenience: You can get a quote 24/7 from the comfort of your own home! No waiting on hold on the phone or only being to call during "office hours" when many of us are working.
2. No Sales Pitch: I hate feeling pressured to buy something when I'm not sure or not ready. Insurance Hunters brokers are licensed AND independent so they will give you unbiased advice you can trust.
3. Speed: Insurance Hunters will provide you with your three best quotes in 3 minutes. I remember when I was calling around for quotes, I would have to give my information and then wait for a callback. There's literally no wasting time here!
4. Save Money: Insurance Hunters finds you the best deals out there among competiting insurers. A customer survey they did suggests that car insurance owners save an average of $200/year when they use Insurance Hunters.
5. Selection: I like to have options and Insurance Hunters will provide you with quotes from five of Ontario's top insurance companies. This way you know you are getting the best deal possible.
I wanted to see what the process was like so I got a quote for Car Insurance using my information but with my parent's Ontario address. The process literally took all of five minutes at the most. It was incredibly simple and straightforward. Right away I was given three quotes and the prices were very competitive.
I encourage you to give Insurance Hunters a try and get an auto insurance quote. It's interesting to compare the rates to what you are paying now and see if you can save some money!