Makana Artisanal Pure Soy Candles Review
When my five year old daughter was diagnosed with severe asthma as a baby, I was afraid that I would never be able to light regular candles in our home again or risk irritating her respiratory issues. Thankfully, there are wonderful alternatives to traditional candles that are free of potentially harmful chemical additives from companies like Makana.
Makana has created a wonderful line of hand-crafted artisanal candles that are made using only organic pure non GMO soy wax, essential oils and lead-free cotton wicking. Each 10 ounce candle has a 60 hour burn time and there is a wonderful selection of scents to choose from including Coconut Milk Vanilla, White Pearl Tuberose and Grapefruit Lychee (I imagine this smells amazing!).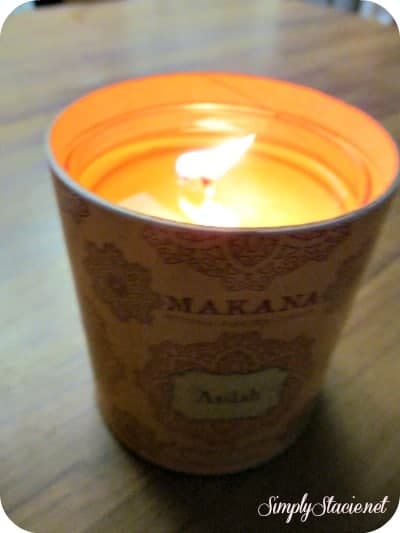 From the Arabesque collection, the Asilah soy candle (10 oz/$26) smells so exotic and inviting. I was initially apprehensive that my husband would not like this scent because he is very particular about any fragrance that includes sandalwood claiming it can be "over-powering". I was thrilled when he came home and asked, "What is that wonderful smell?" The Asilah candle features sandalwood and Madagascar Vanilla. It has a pleasantly intoxicating aroma that is so lovely and not overpowering in the least when lit. The eco-friendly packaging is very attractive making this an excellent hostess or wedding gift and as a bonus it is made from recycled materials and can be recycled too!
I am very impressed with the overall quality of Makana candles and I love having a source for beautiful, hand-crafted eco-friendly candles that are affordable too. I enjoy the lovely glow and aroma permeating from my Asilah soy candle every evening as I unwind with my husband when the children are in bed.
Which candle fragrance would you enjoy the most? You are invited to visit Makana to browse the entire collection of high quality, soy candles.
Disclosure: I was not financially compensated for this post. I received a sample of the product for review purposes. The opinions are my own, based on my personal experience with the product.