Frankenweenie Premiere & After Party Experience #DisneyMoviesEvent
I returned home from LA on Thursday afternoon after a whirlwind trip! One of the highlights of the experience was attending the white carpet premiere of Frankenweenie. We were told it was a black & white theme so had to dress accordingly. Luckily that fits the bill for most of my dresses so I wore a light black & white print dress with a pair of black dressy sandals.
Photo Credit: WireImage
Here's a picture of all the bloggers on the Oscar staircase which is across the road from the El Capitan Theatre.
Photo Credit: Marshall Weinbaum
After taking this picture, we headed over to the El Capitan Theatre and there was already a HUGE crowd lined up to see the stars! It was packed! I was nervous because I had never walked down the red (or in this case white) carpet before. It was exhilirating! I walked by reporters lined up from the TV shows and saw the stars of the movie.
Photo Credit: WireImage
Photo Credit: WireImage
Photo Credit: WireImage
I walked right by Winona Ryder! I snapped a quick photo with my phone (sorry about the poor quality).
We also saw the child stars from the movie including Charlie Tahan and Robert Capron.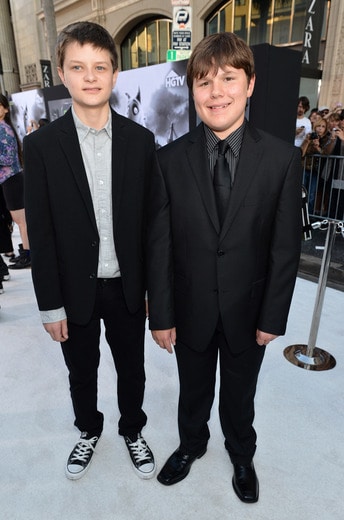 Photo Credit: WireImage
And Tim Burton!!!!!
Photo Credit: WireImage
The El Capitan Theatre is something else! The decorations are very elaborate with an old fashioned feel. There was an organist playing on the stage to really set the tone for the movie. I looked around the theatre and saw Martin Short, Martin Landau and Catherine O'Hara a few rows back! I loved Catherine O'Hara in Beetlejuice and Martin Short in Innerspace. He's also a Canadian.
I sat in excited anticipation for the film to start. When the credits started rolling, everyone clapped as each person's name came up on the big screen. I'll tell you more about the movie itself next week when I post my review.
After the movie, we walked over to After Party at The Annex across the road and up a bunch of escalators. Inside was all Frankenweenie! They had cut outs of the characters all around and Frankenweenie pistachio nuts on all the tables. As for the food, they had hotdogs, pogos, mini hotdogs and an elaborate spread of desserts.
Here's Mariah from Formula Mom, Tiffany at Fabulous Finds by Tiffany, me and Staci at 7 On A Shoestring posing at the After Party with the Frankenweenie character cutouts.
Photo Credit: Staci Salazar
All the stars of the movie were there plus other people I recognized like Elvira! I tried to get a picture of her discreetly, but it was so dark in there and they didn't turn out.
Photo Credit: WireImage
We also saw Tim Burton and Winona Ryder again.
Photo Credit: WireImage
Martin Landau was there too.
Photo Credit: WireImage 
We asked if we could get our picture taken with Robert Capron who plays Bob in the movie. It was funny because we had to get the picture taken at least three times before it would work properly!
Photo Credit: Staci Salazar (taken by Robert Capron's dad)
We ended up talking to Robert Capron's dad for about 30 minutes. He told us about his son's past projects and what it was like to be the father of such an accomplished young man. He was beaming with pride for his son as he should be. Robert is very talented and has a great career ahead of him.
We headed back to our hotel across the way at about 10 pm and I was exhaused (jet lag), but full of so much gratitude for this amazing experience. I couldn't wait to share it with my family, friends and all of you!
"Like" FRANKENWEENIE on Facebook
FRANKENWEENIE arrives in theatres everywhere on October 5th!
*I received an all expenses paid trip to Los Angeles in order to participate in this event. All thoughts and opinions expressed in this post are entirely my own.*