eShakti Review
I'm happy to report that I've lost a total of 50 lbs. since February! I'm ecstatic about the weight loss and that I've done so well, but there is a downside. I have no clothes! I was delighted to check out eShakti and peruse all their beautiful clothes. This is not your ordinary clothing site though. Here you can buy custom clothing at reasonable prices! Before learning about eShakti I was under the impression that customized clothing would cost a fortune. I'm happy to know now that it really doesn't!
I love that you can customize everything! For instance on a dress you can choose the length, sleeve, neckline and of course, colour. They also carry a diverse range of sizes from 0 to 36W. I really like that the clothing is made for women in all shapes and sizes and not just women who look like models.
Every item is cut to order. You will notice when you place your order that they will ask for your height. This allows them to give each article of clothing a better fit.
I picked out a pretty black skirt made of 100% cotton from the Fall Collection. I wear skirts year round because I love how they look and for comfort. In the winter, I usually pair them with my knee high leather boots to keep my legs warm.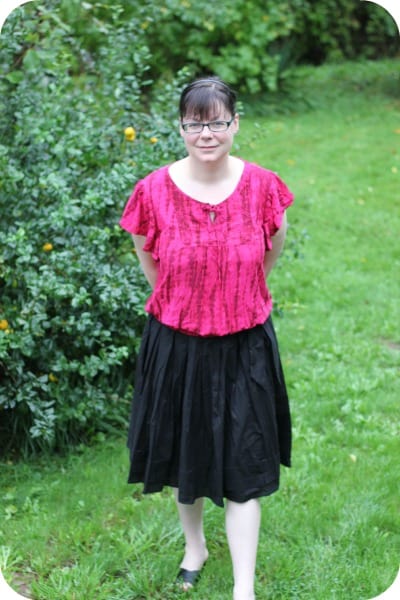 The skirt falls just below the knee and has a scarf belt tied around the waist to give it character.
When I was browsing their site, I discovered many more dresses, skirts and tops that I would like to buy.  I need a new wardrobe and eShakti is the perfect place to start!
eShakti currently only ships to the USA & Canada. Shipping costs vary depending on the size of your order. It starts at $8 for orders under $49.99 and up to $17.95 for orders over $200. For payment they accept Visa, MasterCard, American Express and Discover credit cards.