Book Review | 150 Best Grilled Cheese Sandwiches
Title: 150 Best Grilled Cheese Sandwiches
Author: Alison Lewis
About the Book:
A grilled cheese sandwich is classic comfort food and it's enjoying an incredible resurgence in popularity. These fabulous recipes all begin with the grilled cheese we all know and love, and then from there, creative twists showcase just how incredibly versatile this sandwich can be. The recipes reflect an almost endless and delicious variety of choices that include simple and timeless as well as gourmet and artisanal. From breakfast to dessert, there's something for everyone in this book.
My Review:
The most requested food item in our house is the grilled cheese sandwich. John and my kids love them and they are always a quick and easy fix for lunch or supper. In fact, John tells me all the time that I make the best grilled cheese ever and he doesn't know how I do it. I guess when he makes them he always ends up burning them.
I knew he would love my new cookbook, 150 Best Grilled Cheese Sandwiches by Alison Lewis. I love to experiment with different flavours and its fun to mix things up a bit. My motto is you won't know you like it until you try it!
The book begins with some Grilled Cheese basics. The author gives tips on choosing the best cheese and bread,cooking and cutting and some sandwich shortcuts. Who knew there was so much to learn about making grilled cheese sandwiches! It also includes chapters for:
Breakfast and Brunch
Appetizers
Light & Healthy
Meatless
Beef
Chicken and Turkey
Pork
Fish and Seafood
Condiments
Desserts
I love the wide variety this book provides. Most of the recipes I would be interested in trying out and included ingredients I would have never thought to include in a grilled cheese sandwich! I love the sound of the Grilled Salmon & Gruyere sandwich and the Grilled Zucchini & Cilantro Pesto. However, once I saw the Lasagna Grilled Cheese I knew I had to try it. It was so easy to make and tasted amazing!
Unfortunately I can't share the recipe, but I did take these pictures to show you what it looked like.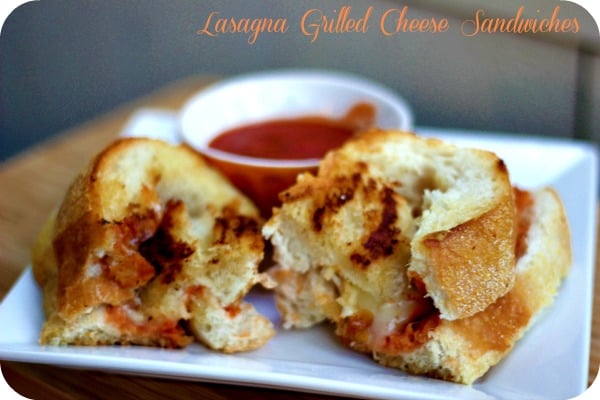 I also liked that the ingredients listed in the recipes were ones that I recognized and would be able to find in our local grocery stores. I'm always nervous when I get a new cookbook because we live in such a rural area and the selection is so poor for anything different from the norm.
You also don't need any special equipment. Some of the recipes will say that you can use a panini press but they also say that you can use a regular frying pan. Someday I would like to get a panini press, but for now, I'll just be using my regular frying pan. It still does a great job and makes one mean grilled cheese sandwich!
*I received a copy of this book to review but I was not financially compensated in any way. The opinions expressed are my own and are based on my observations while reading this novel.*