What Would You Do? Children's Series Review
One of the areas that I want to teach to my three children in our home school this year is character building and values. Written by Sandra McLeod Humphrey, a retired psychologist, this books series from Kids Can Do It™ are exceptional reading material for school aged children.
I know that my children are going to have to make difficult decisions throughout their lives and I love that this book series helps to give them different scenarios to discuss with me first so that perhaps they will be better equipped to make wiser choices. It's Up To You……What Do You Do? is a series of three books that feature interactive, real life scenarios. These life lessons utilize situations that children face in the real world every day. The illustrations by Brian Strassburg are fresh and portray the emotions of the characters in the story perfectly.
In the first award-winning book of the series, If You Had to Choose, What Would You Do? ($14.98) there are 26 stories that cover a vast array of subjects pertaining to ethics and character. One story, "Best Friends" was particularly meaningful to my seven year old son who is having difficulty being included into a duo of boys in our neighborhood who were already established BFF's. Adam could relate to the little girl in the story who was being excluded from the duo in the story. I appreciate that the story encourages the main character to ask her mother for guidance. At the end of the story there is a thoughtful, interactive "More To Think About" section of questions such as "Why doesn't Trisha say something to help make friends with Betsy and Lisa?"
It's Up To You….What Do You Do? ($14.98) is the second book in the award-winning series and this book provides 25 new character building stories. It features such topics as self-discipline, loyalty, friendship, compassion and integrity. My son was very excited that there is another book in the series and he asked me to read it along with him so that we could discuss the questions together.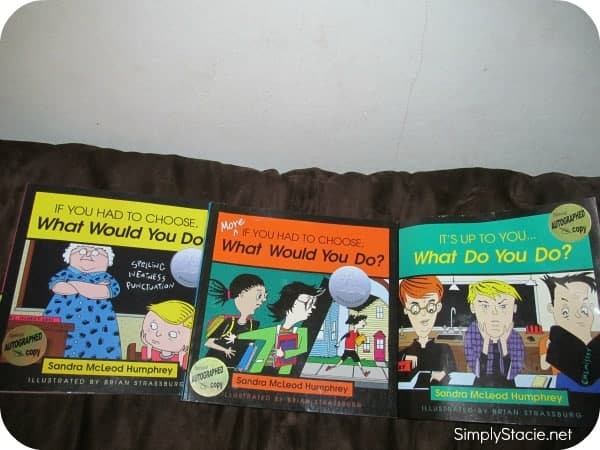 More, If You Had to Choose, What Would You Do? ($14.98) is another Silver Quill award-winning book featuring 26 additional stories helping to open the door to discussions about personal values in a world of peer pressure. I was very impressed with the content of the story "Show-and-Don't-Tell" which is about a boy who is pressured by older boys to keep quiet after seeing them with a gun in the bathroom at school. Within the story the main character considers different scenarios about how to address this situation and asks the child, "What would you do? Why?" My children and I had never had an in-depth discussion about this type of situation and I am glad that this book made me realize how important it is to discuss similarly dangerous situations with my children to get an idea of their though process and how they would react.
If you are a parent of a child ages 6 through Junior High then I highly recommend reading this book series with your children. It is entertaining and educational so it really captured my son's interest and I will be reading these with my younger children in a few years too, revisiting these timeless stories.
You are invited to visit the author's website to learn more about this book series and to browse additional children's titles. Titles are available for purchase at Amazon.com and I noticed a great sale with book prices currently $10.19 per book….an excellent value in my opinion!
Disclosure: I was not financially compensated for this post. I received a sample of the product for review purposes. The opinions are my own, based on my personal experience with the product.