Tuesday's Top Blogs According to inRandom
Welcome to Tuesday's Top Blogs! Come and discover some new and interesting blogs. Each week I will feature a different person and ask them to list their five favourite blogs and why they like them. This week, I'm pleased to have Amanda from inRandom joining us.
inRandom was created from the idea that kindness comes randomly without intention. I originally had no idea what I was going to do with it and so I decided to name it what I generally titled pieces of writing that was untitled, written in randomness. The designer messed up and put the words together, inrandom and I loved it.
My sister-at-heart and I created it, a place to go to get away from our everyday and write freely. We then decided to just start giving things away to people and made a Facebook page and had a lot of fun making people smile. We did a lot of work and paid a lot out of pocket to just give things to fans and eventually they all wanted giveaways like other blogs and so that's what we did, we intermingled our idea with Reviews & Giveaways and here we are. Our blog has always been first and foremost about our fans, although sadly the Review/Giveaway portion takes a lot of time and with the new implementations on Facebook we haven't had a chance to really embed ourselves into our fan community as much as we used to. However, the concept of random kindness has always stood and we still do tend to surprise many of our readers with random gifts and fun things just to make their day.
I call inRandom a Family Blog for Families because I eventually brought in other sisters, my older sister, my sister-in-law and some Bloggy sisters that I work with. Together this is my family and their ideas create a scope on such a beautiful level. Varying religions, varying family traditions, paths and idealism's give away for a whole focus for our fans because we are all different at heart.
I administrate everything on the blog. I've ran websites (admin/personal relations) for over 13 years in various genres: gaming, machinima, modeling, etc. I don't tend to follow the leader in blogging because of it! I often times see things differently and that has made all the difference in setting us apart from the masses of online 'mommy' blogs. inRandom was created as a place for us to go and share a part of ourselves freely, undeterred by niches and factions and it is my place to make sure that it will always be that way no matter how or what direction it evolves.
Favourite blogs…
Get Along Home is one of the very first blogs I've ever read. Cindy is simply remarkable, in writing, in honesty and just as a person. In fact, after reading for one week I donated an item to her school, which I'd never done before for and still continue to do randomly even after 3 years of being a fan. She has a bluntness I have an incredible respect for, especially as an introvert. Her life is there for anyone to read and enjoy… as long as you come with an open mind. She is the most sure person I know when it comes to her heart and her beliefs and although I don't always agree with her, I have such a tremendous amount of respect for her as a person. Get Along Home is what I would consider the epitome of what blogs should hope to be in their content writing, well thought out, well written and incredibly interesting.
I'm a little biased here, I write for Outnumbered 3 to 1! Well… I am considered the Assistant, although I take no credit in creating that blog. I started reading Outnumbered some years ago when I first was into giveaways. My blog was nothing more than a place to write my thoughts and giggle/chat with fans, so I was always going over to Outnumbered 3 to 1 to enter giveaways. She always had a lot of them! Then one day she put up an advertisement for writers and I was sitting there on my phone, waiting for my son to wake up and decided to apply. I actually think my first line was, "If you think you are Outnumbered 3 to 1, I have you beat." I had two male pets, two male sons and a husband… I thought I'd fit in quite nicely and apparently I did! I have sworn in pixels to never leave no matter how big my blog gets, so I guess they are all stuck with me, but that's ok… I owe a lot to Mel and she's become my dearest friend.
Have you read I'm a Lazy Mom? She is crazy! In a good way! I have no idea who she is but man oh man does she make me laugh everyday. I love that woman. I told her once that if anyone could get me to go back to church (long story) it would be her. She's hilarious! I've never read anything like that blog in my life and I think there are too few blogs like hers out there. She is the shining spot in my day to read and I simply couldn't go without wondering what in the world she is going to come up with tomorrow.
Anyone who can sit there and write 1 deal an hour everyday for the rest of their lives deserves to be in the top 5 of anyone's favorite blogs. Budget Savvy Diva even wrote deals every hour on her honeymoon! Now that is commitment! And the fact that her husband is so supportive is amazing. I generally push any fans, friends and family looking for a great deal site her way because she is the fastest deal person I have EVER seen. I belong to a lot of deal sites and they don't have anything on her, it's as though she has some psychic ability to know 2 min faster than anyone else. Incredible.
And one other thing. She is humble. She's been flown everywhere, gone to Disney, done amazing things that I could only dream of as a Blogger and she is humble and still gets sad to see readers leave her. She really shows that no matter how successful of a blog you have, you still have the same heart, you still want to know you are appreciated.
Slap Dash Mom is a new blog that I've started reading, mainly because she writes about controversial subjects on her Facebook Page which is a general no-no to most bloggers. I like her spunk. She's honest, outgoing and often asks for advice from readers (and listens!). She's very 'real' and I have a lot of respect for that.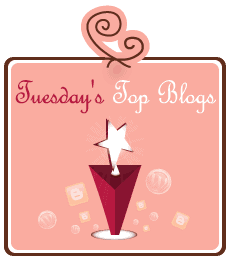 Please fill out this form if you would like to be featured with your top blogs on Tuesday's Top Blogs!