Quinn Popcorn Review
I love popcorn. Always have, always will. I like it hot and freshly popped from the microwave, and I like it store bought right out of the bag as well. I know that some varieties are healthier than others, and I like to try to stick with them so as to not derail my dieting efforts. I'm always up for trying new brands and new flavors, so I was more than happy to review Quinn Popcorn – a company that's revolutionizing the microwave popcorn business.
Quinn Popcorn was started two years ago by a new mom who set out to create healthier microwave popcorn – including making the bag itself healthier. Bothered by the chemical-laden bags of the mass produced brands, Kristy Lewis worked with farmers and organic suppliers while her husband worked on designing a bag without chemical coatings. After a year of testing and trial and error, Kristy achieved her dream of a healthier popcorn – inside and out. Quinn Popcorn is organic and every ingredient is Non-GMO. The oils they use are expeller-pressed and low in saturated fats. There are no preservatives or any other additives. The microwave bag is made from special paper that is mechanically processed to be naturally grease proof, and compostable.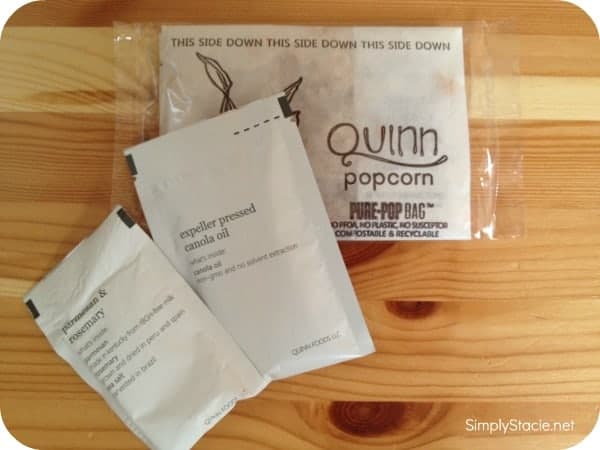 I was sent a variety flavor pack of Quinn Popcorn for review. When I received the product I was struck by the packaging – so clean and simple. Each box contained two bags of popcorn along with oil and spice packets for each. My husband and I thought the Parmesan & Rosemary sounded yummy, so we dove into that flavor first. At first I was a little worried that the paper was too thin to hold up to being microwaved, but it held up just fine. Once it was done popping, I simply added the oil and spices as directed and shook up the bag to mix it all up! It smelled fantastic and tasted even better. It was light and airy and very tasty. It made us even more excited to try the Lemon & Sea Salt and Vermont Maple & Sea Salt flavors in our variety pack – they did not disappoint! I like that the flavors were not overpowering – and you can control the amount of flavoring you want as well with the flavor packets. The variety pack I received retails for $14.97.
You can learn more about Quinn Popcorn, and where to buy it, on their website – be sure to sign up for email updates on their homepage.
Disclosure: I was not financially compensated for this post. I received a sample of the product for review purposes. The opinions are my own, based on my personal experience with the product.