Story Leather Review
I think leather is a timeless and classic material. I base a lot of my purchasing decisions on handbags and shoes on whether they are 100% real leather because I know if they are, they will last longer, and as long as I don't choose too trendy of a color, I know the piece will be a classic that I can incorporate into any outfit I choose to wear. So when the opportunity to review an iPhone accessory piece from Story Leather came along I was both intrigued and excited.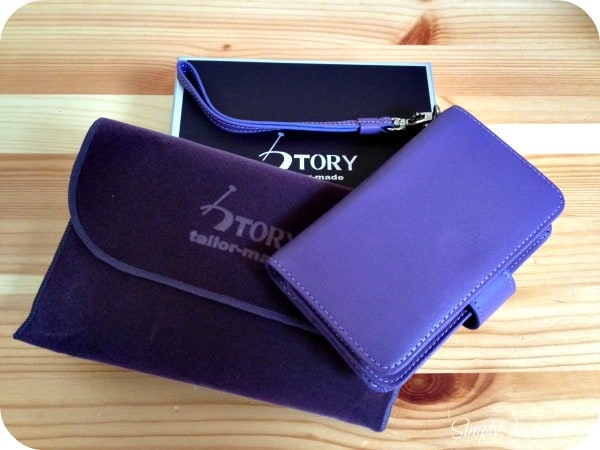 Story Leather was started in 2007 by a group of self-proclaimed leather enthusiasts who believe that every person has their own story to tell, and that part of that story can be told through that person's style in clothing and accessories. The Story Leather team consists of highly trained, talented leather artisans who take pride in their craftsmanship. Each leather piece sold by Story Leather is individually dyed, cut and hand sewn. And every piece goes through a vigorous quality control inspection before it is shipped. With an eye on style and functionality, they have carved a niche for themselves in customizable leatherwear for high tech gadgets.
I received a Napa Lavender Folio Slider for iPhone 4/4S for review. It arrived nicely boxed and wrapped – easy for gift giving. The smell of the leather was a wonderful treat, and it really evoked a sense of quality. The color is fun and summery and a perfect accent to the dark pieces I'm usually carrying and wearing. I liked that this piece could hold a few credit cards, my ID, some cash and spare change along with protecting my phone. The hand strap makes it easy to carry as well. It makes it the perfect piece to throw in my diaper bag when I'm running errands and don't want to lug my purse along. It also makes for a nice date-night piece when I don't want to carry along a big purse with me. My phone easily slides out when I need it, but is secure when tucked inside the folio. This folio retails for $49.99 on the Story Leather site.
You can see the full line of Story Leather products on their site. If you don't see something you like, they will work with you on a custom piece to fit your needs.
Coupon Code
Save 10% on your purchase at Story Leather with the coupon code: SIMPLYSTACIE
Disclosure: I was not financially compensated for this post. I received a sample of the product for review purposes. The opinions are my own, based on my personal experience with the product.