Multisport Journeys Outdoor Gear Review
Our family loves to spend time together camping, hiking, biking and simply enjoying nature. In fact we are leaving soon for our summer vacation in the mountains and will be enjoying lots of time outdoors.
My children will be sporting their fabulous shirts and hats from Multisport Journeys while playing in the woods. Multisport Journeys' motto is "live to play another day®" and there is a wide selection of outdoor gear for the entire family including babies, children, men and women. From tees, long sleeve shirts, sweatshirts, fleece, hats and more there is sure to be the perfect selection for everyone to update their summer and fall outdoor gear.
I absolutely love the colorful artwork where you can choose from a huge selection of outdoor sports, hobbies etc. If you "Live to" run, hike, fish, bike, swim, paddle, surf or dirt (bike) and much more then you are not going to want to miss out on the fun options available to adorn your gear from Multisport Journeys.
Customizing your gear is so easy…….just pick your hat, shirt, mug etc. and then choose the color and size. Next, select your desired sport or travel artwork and choose the print location.
My son loves his Wicking Tee especially for off-road bike riding. He stays cool and dry as moisture is wicked away from his skin…..meanwhile the rest of our family is dripping in sweat. I am so jealous that I am going to get one for myself and my husband too. His shirt is light-weight and a very nice quality. In my opinion these are very affordably priced starting at $19.50 for kid's wicking tees.
Hannah and Jacob also love their kids' cotton tees which are super soft and made of pre-shrunk jersey cotton. The sizing is spot on and there is plenty of room for the kids to grow making this a shirt that I expect they will be able to wear on a lot of outdoor adventures.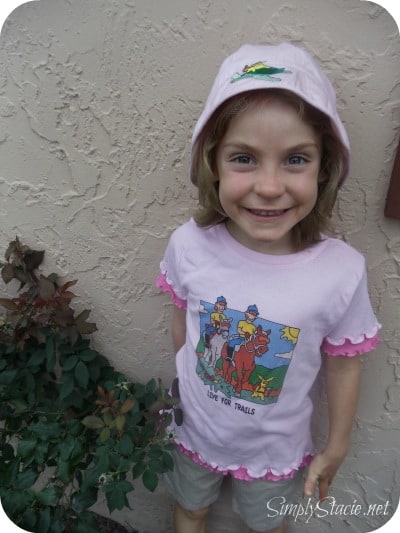 There is also a nice selection of kid's hats including styles like bucket, baseball cap, beanies and more. I like that our Multisport Journeys' kid's hats are adjustable and a comfortable hat for all three of my children. The colors and graphics really "pop" and my kids ask to wear their new hats all the time when we are heading outdoors.
I am very impressed with the concept and quality of the outdoor gear my children are wearing from Multisport Journeys. In fact, my husband and I will be ordering several items for ourselves too. You are invited to visit Multisport Journeys…….you have got to check out all of the fantastic artwork options!
Connect on Facebook and Twitter too!
Disclosure: I was not financially compensated for this post. I received a sample of the product for review purposes. The opinions are completely my own based on my experience.