Goody Simple Styles Review
I have always had a love/hate relationship with my hair. I love my hair right after a professional styles it, I get a fresh cut, or I get a salon color done. When left to my own devices, my hair is usually secured in a ponytail (really not my best look) or I flat iron it completely stick straight. I can never get my hair to look as amazing as after I leave my salon. This is why I was so excited to learn about Goody Simple Styles. Goody is a brand that I have trusted and loved for years; I buy their brushes and seamless elastics.
Goody Simple Styles are hair accessories that are designed to give you an elegant look with just a few simple steps. Even someone like me, who has never been terrific at styling her own hair, should be able to use them and get a flawless look. I have personally tried the Simple Styles Twisty Comb and Simple Styles Volume Boost Comb and am pleased with the results–now that I've finally figured out how to use them correctly!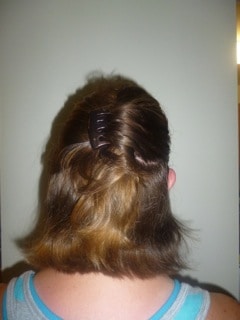 Out of the two Simple Styles products that I received to try out, the Simple Styles Twisty Comb was the most confusing to figure out. I had been practicing on my daughter's gorgeous curly hair as well as my own, and could never get the comb to stay in position. It wasn't until I asked a friend to try it out with me that I figured out I had completely misunderstood the directions, and wasn't starting the comb out in the right position. Now that I understand what I'm supposed to do with the comb, I should be able to learn how to style my hair in any of the quick, easy styles after a bit more practice. After looking around a bit more online, many other people also seem to be confused about how to use this comb. The starting position is to have the comb's back side facing front; you insert the comb into your twist, and then actually flip the comb. I hope that the Goody YouTube Channel will post a tutorial for this, because it's easier to see it demonstrated than to read the directions. I couldn't tell I needed to have the comb flipped from looking at the illustrations and reading the instructions.
The Simple Styles Volume Boost Comb was definitely the easiest of the two to use. I let my friend style my hair with this one, and in just under one minute I had a completely new style. I have what I consider to be pretty flat, lifeless hair so this definitely gives me some volume. A little bit of hair spray or gel as well as straighter locks will make this a perfect 'do for a day style or a night out on the town.
I love the concept of the Goody Simple Styles products and would definitely consider trying out some of the other hair accessories that I've seen on their website. I wish that these had been around when I was going to school dances. My friends and I would have had a lot of fun styling each others' hair and saving $30 or more from a trip to the salon.
*I was not financially compensated for this post. I received a sample of the product for review purposes. The opinions are my own, based on my personal experience with the product.*