Colonial Candle Review & Giveaway (US)
The Olympics are only a few days away, and all eyes are on London. With the spirit of the games in mind, Colonial Candle has come out with a new line of fragrant candles that evoke the charm and classic style of the British city called The London Collection.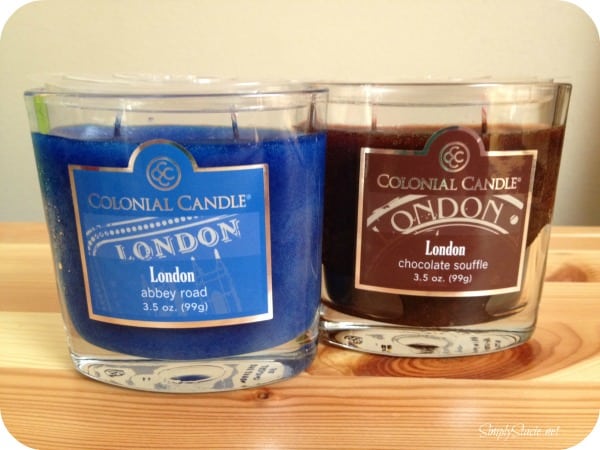 I was sent the four scents of The London Collection for review in the 3.5 ounce oval jar size. The Chocolate Soufflé scent smells edible – very chocolaty! The Afternoon Tea scent is a nice combination of white freesia and fresh brewed tea and is very light and calming – a scent that I would call classic and summery. Abbey Road is a more powerful scent, very flowery and I think perfect for a guest room or hall bath. Poppy Fields is a strawberry scent that's a very pretty red color. I found that each candle was fragrant even without burning, which I like because they act as room fresheners even when not in use. Each candle in the 3.5 ounce size burns for up to 21 hours. Colonial Candle's new London Collection fragrances are available for purchase on their website, and at select retailers. The fragrances are available in 22-ounce ($25 MSRP), 8-ounce ($15 MSRP) and 3.5-ounce ($7.50 MSRP) signature oval jars, as well as oval glass votives ($3 MSRP).
Colonial Candle has been around for over 100 years, having started in the small colonial kitchen of Mabel Baker who created candles as a way to spread joy to her family and friends during the holidays. Having evolved into the company it is today, Colonial Candle commits itself to the high standard of quality that Ms. Baker infused in her candle making. You can see the full collection of candles Colonial Candles has to offer on their website. You can also check them out on Facebook, Twitter and Pinterest.
Coupon Code
Colonial Candle is offering all Simply Stacie readers a 15% discount on all four London Collection fragrances (in any size) through August 7th – all you have to do is enter QUEEN15 at checkout.
Giveaway 
One lucky reader will win a set of London Collection candles in the 3.5 ounce size!
Check out the list of all my current giveaways!
Disclosure: I was not financially compensated for this post. I received a sample of the product for review purposes. The opinions are my own, based on my personal experience with the product.