Beautiful Silver Jewelry Review
It is no secret that I am a huge fan of Beautiful Silver Jewelry because the pieces are stunningly crafted and affordably priced. I find myself regularly selecting my pieces from Beautiful Silver Jewelry to wear on a daily basis and particularly for special occasions.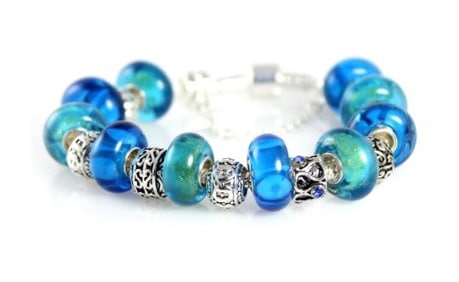 My favorite piece this summer is the Caribbean Blue Murano Bead Charm Bracelet. This bracelet is absolutely gorgeous and whenever I wear it I envision myself strolling along a tropical beach. It features 19 beautiful beads in the highest quality Aqua Turquoise Blue and Darker Sea Blue. The beads are set against silver plated charms with a pretty swirl design which really accentuates the rich color of the beads…..the details of this bracelet is exceptional.
The bracelet is unique because the beads can be changed or removed and it is compatible with Pandora, Biaggi and European charm bracelets. It is sized for a 7" wrist but can be easily adjusted (the bracelet chain itself is 8.3") by removing one or two beads.
Beautiful Silver Jewelry will send your bracelet in a pretty pink gift box so it is ready for gift giving. If you plan to give this bracelet as a gift then I highly recommend purchasing another for yourself because I am confident that you will not want to give this up when you see it up close.
I have worn this bracelet for a romantic date at a beachside restaurant with my husband. I also wore it for a dressier event at a beach wedding and got tons of compliments about my bracelet from wedding goers.
I was stunned by the attractive pricing of this Caribbean Blue Murano Bead Charm Bracelet at only $74.95 because I would have thought the price closer to the list price of $195.00.
Disclosure: I was not financially compensated for this post. I received a sample of the product for review purposes. The opinions are my own, based on my personal experience with the product.