Pure Gear Review
I've enjoyed having an iPhone for the last few years, but I am now on my second one because I shattered the screen on my first one. Having a case on my iPhone is essential so that it can have some added protection. Since I'm always on the go, my hands are always busy doing something when they aren't texting or checking for new email. A hands-free iPhone case is a great idea!
Because of my busy nature, the Utilitarian Smartphone System (for iPhone 4/4s) from Pure Gear seemed like the perfect fit for me. I love having my phone nearby, but sometimes I need to use my phone while doing something else at the same time. That probably sounds familiar to you, especially if you have little ones at home too.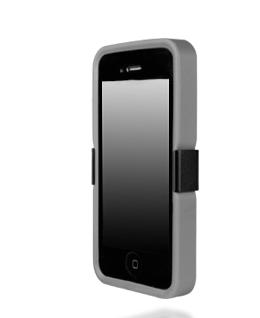 Here are the top 3 reasons the Utilitarian Smartphone System appealed to me:
Clip-on case (perfect for when I want to leave my purse at home and take only my keys, money, and phone)
Kickstand that can pivot
The video (see below) shows someone attaching it to her stroller, and I walk with our stroller almost every day
The Utilitarian Smartphone System does work in all of the ways that it is advertised to, so it will ultimately come down to your personal preference on whether or not it's the right case for you.
Being able to clip the case on to my clothes or bag is extremely handy, but the clip is smooth and doesn't have the grip that I had hoped it would. I found myself worrying that it would slip off if I bent over, and wasn't willing to risk cracking another screen by using it while exercising.
The kickstand, however, is perfect. I can prop it up and read from the Kindle or nook apps while having my hands free to eat or drink at the same time. Or, like in the video, it works great to use as a clock that I might need to look at in the middle of the night if I wake up for some reason. The kickstand and the clip are also removable, so if I decide not to use them, my phone is still protected with the case.
The case is easy to get on and off of my phone without scratching or damaging it (and this case also comes with a screen shield, which I did not use because my husband already put one on my phone for me) but near the bottom of the phone it doesn't stick to the phone as much as I would like to. I've seen other cases where there is something gummy inside of the case that will stick to the phone so the case is fully attached at all times with no wiggle room. My personal preference would be to have the phone and the case more solidly attached to one another.
The case also covers up the volume buttons, so I have to press them a little harder to make them work. My personal preference would be to have those buttons exposed, and not covered by the case.
Lastly, because of the design of my stroller and the bulk of the handle, I wasn't able to attach it with the clip the way I had hoped to. This is not the fault of the case, but of my stroller design.
I can still enjoy many of the features of this case, however, and would recommend it for busy moms and dads on the go who sometimes need free hands.
Disclosure: I was not financially compensated for this post. I received a sample of the product for review purposes. The opinions are completely my own based on my experience.