People Like Us Movie Review #PeopleLikeUs
On my recent trip to NYC, I had the opportunity to attend a screening of the film, People Like Us. I knew it was a drama, but didn't know too much about the movie at that point so I went in with an open mind and wasn't sure what to expect. The film is actually inspired by true life events of director, Alex Kurzman. It starts out with Chris, a salesman in his 20s, discovering that his father has died and having to return home to settle his estate and attend the funeral. During this time, he finds out that he actually has a half-sister that his father never mentioned AND is required to deliver to her $150,000 of his father's fortune. Chris is in shock and questions everything he knew about his dad. He also has a moral dilemma about delivering that money to his sister because of his own failing financial position. He meets his sister and her 12 year old son, Josh and begins to develop a relationship with them, BUT without revealing WHO is and WHAT his purpose is.
People Like Us is an emotional rollercoaster ride so bring the tissues with you when you go. I could relate to all the characters and the challenges they faced. Chris, the son, struggles with how to tell his sister who he really is and dealing with his mother who has secrets of her own. Frankie (the sister) deals with the fact that she had an absentee father who kept her a secret for her entire life. I loved watching the relationship between Chris, Frankie and her 12 year old son, Josh develop. There were times in the movie. I was anxiously anticipating Chris revealing his true identity to Frankie and Josh. You will have to watch and see how that unfolds because I don't want to ruin the experience for you.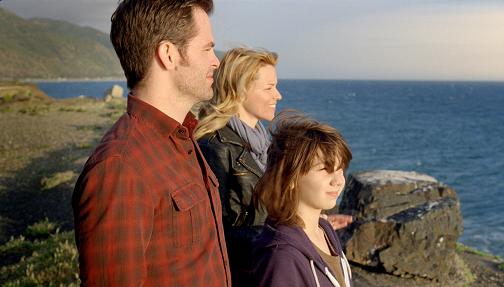 The movie also brought up the question for me about how well do you really know the people in your life? You may think you know them, but really you only know what they want you to see. As Chris finds out, his dad had a lot of secrets and things he didn't want anyone to know.
This is an easy movie to lose yourself in and feel immersed in the story and characters. I didn't want it to end! People Like Us opens in theatres on June 29th. I want John to take me so I can watch it again!!
Check out the trailer!
"Like" PEOPLE LIKE US on Facebook
Follow PEOPLE LIKE US on Twitter
*Disney/Marvel provided me with an all expenses paid trip to New York City to attend a screening. Any thoughts and opinions expressed in this post are entirely my own.*