For My Children Review & Giveaway (US)
I can still remember the exact moment that my first son was born and it is so hard to believe that he just turned seven years old. In seemingly just a flash of time my babies are now ages 4, 5 and 7. I watch as my friend's children are now graduating from high school and entering into college and it makes me reflect on the special moments I have enjoyed with my children so far knowing that soon enough they too will no longer be my "babies" anymore.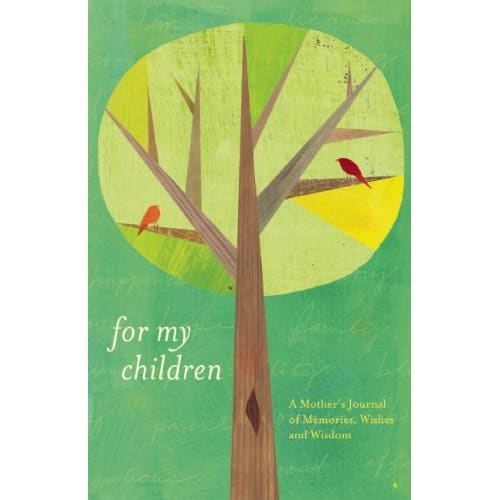 For My Children: A Mother's Journal of Memories, Wishes and Wisdom (SRP $14.95) by Dionna Ford is a beautiful keepsake book that will help me to capture those special moments with pen and paper. It is a wonderful collection of thought provoking questions, "fill-in-the-blank" lists and queries. From "What moments have you most proud of your child(ren)?" to "What do you value most about your children?"………….I enjoy journaling my answers to these questions and look forward to going back and reading these with my children in the future.
This hardback journal has a beautiful illustration of birds in a tree on the front cover and it also has bright, engaging illustrations throughout the book. None of the entries requires a lot of time to complete so it is ideal for busy moms. This would be a perfect gift idea for a new mom or simply purchase one for yourself so you can share your own memories in a keepsake book that is sure to become a family treasure!
I have viewed many themed journals for mothers over the years and this by far one of my favorites!
You can purchase your copy of For My Children: A Mother's Journal of Memories, Wishes and Wisdom at Amazon.
Giveaway
One lucky reader will receive the journal- For My Children: A Mother's Journal of Memories, Wishes and Wisdom
Javascript must be enabled to enter this giveaway. Learn how to activate Javascript by
clicking here.

Loading Entry-Form
Check out the list of all my current giveaways!
Disclosure: I was not financially compensated for this post. I received a sample of the product for review purposes. The opinions are my own, based on my personal experience with the product.