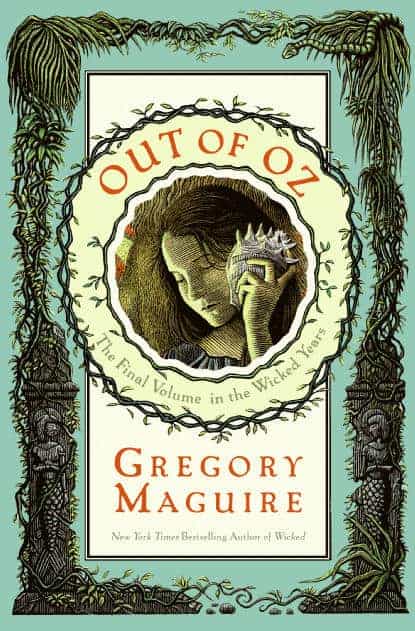 Title: Out of Oz: The Final Volume in the Wicked Years
Author: Gregory Maguire
My Review:
I've been a fan of the Wizard of Oz books since I purchased a copy of The Emerald City of Oz from one of those book sale fliers you got in grade school. With that book, my love of the land of Oz outside of the Emerald City was cemented. When Gregory Maquire came out with Wicked!: The Life and Times of the Wicked Witch of the West, I was smitten. I devoured the whole thing in a week. So when the opportunity came to review the last book in the series – Out of Oz, I leapt at the opportunity, remembering how much I loved the first.
One of the things I appreciated about this book was the series summary/history in the beginning. The last book came out 15 years after the first and the most recent book was still 2 years ago. It was nice to get caught up on and reacquainted with everyone, as it were. Out of Oz picks up during the life of the Wicked Witches granddaughter, during an intense civil war where Munchkinland succeeds from Oz. Glinda is placed under house arrest, the Cowardly Lion is running from the law, and Dorothy has returned.
A grown-up version of the story of Oz, there is much more detail than in Baum's other Oz books and that's a GOOD thing. It has familiar characters, names, and places but feels like visiting your hometown as an adult. Things just feel different. The story and twists and turns were masterfully told. I had a hard time putting it down and didn't post on my blog for about a week because I chose to read this instead.
The only part of the book that I didn't enjoy was the references to several unorthodox relationships. As a Christian, I don't really enjoy that sort of thing. Nothing was graphic and it was tastefully done, if you can say such a thing about a love triangle, a human and Animal marriage and another one I won't detail because it's HUGE spoiler. It seemed to me that he could have found another way to work the conflict to make them unnecessary, but I'm sure he appealed to a much greater audience with it.
Overall, I would say that if you don't mind mainstream fiction, this was a FABULOUS read. If you are a little more discerning in your moral taste, you'll have to read more about it and decide for yourself. The story was great and the characters were well written. If you haven't read ANY of them, go and get them today – these would be great vacation/cruise reads!!
*I received a copy of this book to review but I was not financially compensated in any way. The opinions expressed are my own and are based on my observations while reading this novel.*