Vote for Your Favourite Appetizer & Win Cash!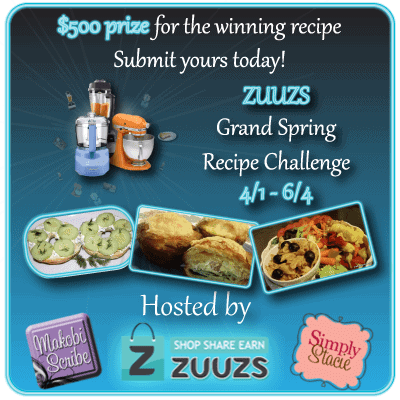 Voting is now open for zuuzs Grand Spring Recipe Challenge! Plus, every time you share after you vote is an entry into a contest consisting of FIVE $20 PayPal prizes! Do not delete the #zuuzsrecipe because that is how it will be tracked.
The three categories are:
Appetizers/Side Dish
Main Dish
Dessert
Here's the direct voting link to all the Appetizers/Side Dishes! I encourage you to check them out and vote for your favourites.
Crimini Mushroom and Crispy Potato Wilted Spinach Salad with Raspberry Balsamic Dressing
Tofu Cream Risotto
Baked Jalapeno Mozzarella Sticks
Black Bean Vegetable Soup
Roasted Sweet Pepper Spring Veggies
Salsa Deviled Eggs with a Fiery Twist
No Bread BLTs
White Bean & Chickpea Hummus
Moroccan Beet Salad
Picco Potatoes
Roasted Grape Tomato and Basil Crostini
How to Vote
Register to vote. Your password will be emailed to you. (Check your spam from [email protected])
Once you receive your password login and navigate back to the contest
Browse the recipes in each category and vote for your favourite by clicking the pink "vote" button in the top left corner of each submission.
Please share your votes on Facebook & Twitter as prizes will be drawn from random shares. Prizes are to include FIVE $20 Paypal prizes.
You can come back every 24 hours to vote for your favourites to win! Voting ends on May 27, 2012. Each voter will receive a copy of zuuzs 2012 Spring Recipe Challenge Collection at the end of the contest.