Tuesday's Top Blogs According to Melanie's Musings
Welcome to Tuesday's Top Blogs! Come and discover some new and interesting blogs. Each week I will feature a different person and ask them to list their five favourite blogs and why they like them. This week, I'm pleased to have Melanie from Melanie's Musings joining us.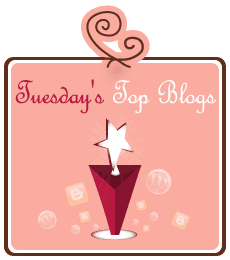 Melanie's Musings  purpose is to help my readers find a great book or movie. The one you'll stay up late to finish, because you can't tear your eyes away. I fulfill my goal by posting thoughtful, constructive reviews of the entertainment I consume, as well as posting updates on upcoming books and movies I can't wait to get my hands on.
I can also be found almost constantly on Twitter @MelanieFoust (twitter.com/melaniefoust). I love to chat.
Favourite blogs…
write meg!: Meg makes me feel as if I've stepped into her world. Whatever she writes about, books, cooking, or photography, she writes as if she's chatting with her readers over a cup of coffee.
revolutionizeher: A blog aimed at self-employed women, or women someday hoping to be, RevolutionizeHer is chock-full of inspiration and practical advice to help readers on their way to an independent lifestyle.
natural/artificial: Natural/Artificial is the blog of Stephanie Perkins, YA author of Anna and The French Kiss, as well as Lola and the Boy Next Door. Whether she's talking about her latest writing news or her latest fangirl focus (Hello, James McAvoy), she always manages to put a smile on my face.
Pop Culture Junkie: I love blogs that post across a large group of topics.  Alea posts about everything from books and TV to knitting and nail polish.  I never know exactly what the next post will hold, I just know it will be fun and interesting.
Blogelina: I read a lot of blogging help blogs to make the most of my experience. However, a lot of them feel huge and impersonal. Blogelina feels close-knit; I've often seen her replying to comments her readers make. She adds a personal touch to a topic that often feels overwhelming and breaks it down into understandable chunks.
Please fill out this form if you would like to be featured with your top blogs on Tuesday's Top Blogs!