Sneaky Pete's Review
Like most toddlers, my son CJ is obsessed with juice. All day long, he is crooking his pinky finger at me. (That's the sign we use for juice.) I don't like to give him too much because a lot of juice is just pure sugar. Even with the 100% juices, I usually cut it with half water. Then I'm afraid that he's not getting any nutrients at all from the juice. I was really excited to learn about Sneaky Pete's oat juices. They are called sneaky because each bottle contains 3grams of fiber from oatmeal. With each cup CJ drinks, it is like he is eating a bowl of oatmeal. Each bottle also only contains 40 calories. Check out the nutritional facts below.
Sneaky Pete comes in five delicious flavors : apples away, grape escape, mango mystique, peach perfection, and raspberry beret. Each one is really good. My favorite was the grape escape and CJ loved the apples away. While the taste is delicious, you can definitely taste that the oatmeal is there. You can't taste it, but the juice just feels fuller or thicker. CJ loved the juice and I loved that I could feel good about giving the juice to him.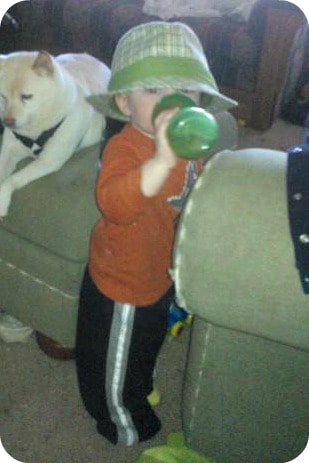 Since Sneaky Pete's is a relatively new company, they might be hard to find at your local stores. Check whereever you normally find juice. If you can't find it, tell your store that they should carry it.
Disclosure: I was not financially compensated for this post. I received a sample of the product for review purposes. The opinions are completely my own based on my experience.