Saturday Morning in Central Park #TheAvengersEvent
This past weekend I was in NYC for the closing night screening of Marvel's The Avengers at the Tribeca Film Festival. Over the next few days, I will be sharing with you what I did on my trip.
On Saturday morning, I got up bright and early to meet Jen from Eighty MPH Mom, Brandy from Not So Average Mama and Jennifer from 5 Minutes for Mom outside the hotel. We planned to spend the morning exploring Central Park. This was my fifth time in NYC (my doctor is there so that's why I've been there multiple times), but I hadn't been to Central Park since 2000. I was excited to explore and take lots of pictures.
After a very scary cab ride, we were dropped off on the edge of Central Park. Almost immediately after getting out of the taxi we were bombarded with different men asking if we want to take a horse-drawn carriage ride through Central Park. It sounded like fun, but we didn't have much time and wanted to explore it on our own via foot.
Central Park is like an oasis in the middle of the pavement jungle of NYC. Everything was lush and green and we couldn't have asked for a nicer day. It was about 6 degrees Celsius, but with the sun shining on us, it didn't feel cold at all to me. It's my kinda weather.
Facts & Figures About Central Park
Central Park is 843 acres and spans 51 blocks (it makes up about 6% of Manhattan)
It is the most visited park in the United States with 35 million people visiting there each year
Despite looking natural, it's actually all man-made
200 species of birds live there
The real estate value of Central Park was estimated to be $528,783,552,000 in December 2005
18 people live in Central Park according to the Census in 2000 (I'm sure that number is different by now though)
It is the most filmed location in the world with over 305 films being shot there
I brought my big camera with me since taking pics with my phone wasn't feasible for me (Canadian traveling to US).  I have to say Central Park is really pretty!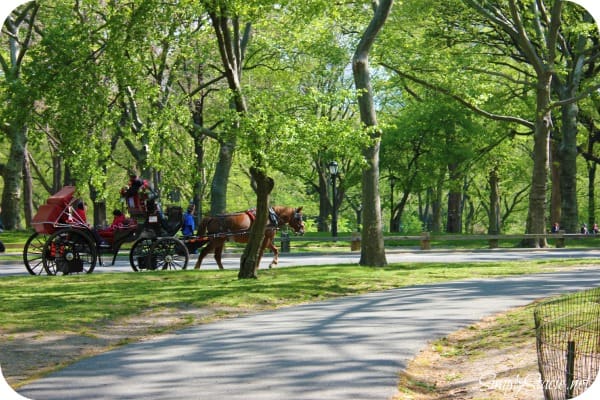 Central Park is very popular with dog owners. We saw numerous small dogs running around like this cute French Bull Dog.
My travel buddies- Jennifer, Brandy and Jen.
Have you been to Central Park before? 
Saturday Morning in Central Park #TheAvengersEvent shar.es/2pjaG

— Simply Stacie (@simplystacienet) May 1, 2012
"Like" MARVEL'S THE AVENGERS on Facebook. 
Follow MARVEL'S THE AVENGERS on Twitter.
MARVEL'S THE AVENGERS hits theaters everywhere on May 4th!
*Disney/Marvel is providing me with an all expenses paid trip to New York City to attend this special blogger event. Any thoughts and opinions expressed in this post are entirely my own.*