Chicken Proscuitto Recipe
This recipe for Chicken Proscuitto was submitted by Stephanie of From Steph's Kitchen in the Main Dish Category in the zuuzs Grand Spring Recipe Challenge! VOTE for this recipe here.
Promote your blog and showcase your recipe in zuuzs Grand Spring Recipe Challenge. The prizes include a $500 Gift Card as the Grand Prize and three $200 Gift Cards as the top Category prizes you can use to buy kitchen related wares. Submissions end on April 28th.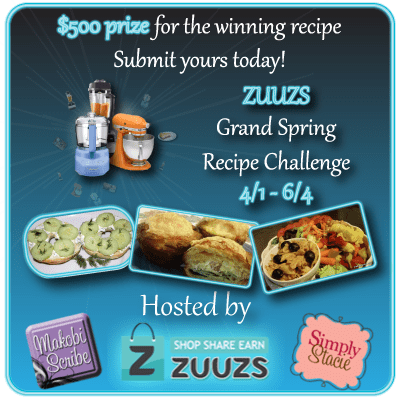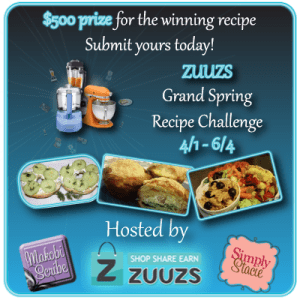 Yield: 6
Chicken Proscuitto
A yummy meal for the family.
Ingredients:
6 skinless, boneless chicken breasts
12 slices Prosciutto
3 oz French's Fried Onions, crushed
3 Tbsp crushed garlic & cheese croutons
5 Tbsp shredded Parmesan cheese
1/2 tsp dried sage
1/2 tsp dried mint
1/2 tsp garlic salt plus more for seasoning
1/4 tsp black pepper plus more for seasoning
5 Tbsp butter or margarine at room temperature, divided
Directions:
Add fried onions, croutons, Parmesan, sage, mint, 1/2 tsp garlic salt & 1/4 tsp pepper to a bowl and mix well. Add 2 Tbsp softened but not melted butter or margarine and mix with hands until well incorporated.
Slice chicken breasts through middle, forming a pocket. Spread softened butter or margarine on inside of chicken breasts and sprinkle with garlic salt and pepper. Stuff well with the onion mixture. Wrap chicken breasts carefully with two pieces of prosciutto each.
Place on baking sheet and place in oven preheated to 375 degrees. Bake for 30 minutes, baste with 2 Tbsp melted butter or margarine and cook an additional 10 minutes.
Remove from oven and let stand for 5 to 10 minutes to redistribute juices.