Tuesday's Top Blogs According to TheItMom.com
Welcome to Tuesday's Top Blogs! Come and discover some new and interesting blogs. Each week I will feature a different person and ask them to list their five favourite blogs and why they like them. This week, I'm pleased to have Daisy from TheItMom.com joining us.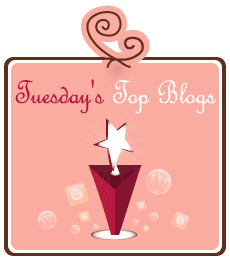 We love to do giveaways and pay it forward by helping others save 70% or more on shopping. Recently, TheItMom won the Hearts On Fire Share Your Story Grand Prize! Hearts On Fire presented me with a $3,500 diamond pendant and are flying me out to NYC for an advertisement photo shoot that will be featured in ALL the major Hearst Publications (Elle, Cosmopolitan, Redbook, O, The Oprah Magazine).
Freebies 2 Deals was the very first deal blog that introduced me to the addicting world of Couponing! I was so skeptical that we could save 70% on groceries until she showed me how!
The Krazy Coupon Lady was the very first blog I saw on Extreme Couponing! They have some interesting deals and ways to make extra money that you don't see on typical blogs. Plus, they have the TKC Network that you can blog about too!
Saving and More really helped me to understand how Deal Blogs work and have been so kind and willing to include them in my giveaways. They were one of the few blogs that helped me grow TheItMom.com facebook following to close to 4,000!
SweepTight.com is also another caring deal blog that was so kind to include me in their giveaways and understanding the world of blogging. They are so technically savvy and bold, that they've inspired me to think outside of the box!
Just Married With Coupons joined forces with SweepTight.com and promote, support, and really encourage the newer deal blogs (like myself) to reach out and connect/network with others. If it wasn't for Saving and More, SweepTight.com, and Just Married With Coupons — all TheItMom.com would be is just another blog!
Please fill out this form if you would like to be featured with your top blogs on Tuesday's Top Blogs!