TrueBody Review
When it comes to our skin, my whole family is a mess. The baby has eczema and both the hubby and I have extremely sensitive skin. We have to be very careful not to use shampoos and soaps with dyes or scents or any of the things that most soaps have. So I hardly ever review those types of products. However, when Stacie was contacted by TrueBody Products, I had to say yes. These products are amazing and natural and safe for even my skin. TrueBody, which is based in Winooski Vermont, was started with the goal of balancing a healthy lifestyle with a budget. They wanted to provide natural body care that wouldn't break your bank account. Well, I think they succeeded.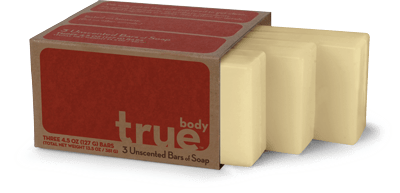 TrueBody started with a simple body soap, but their customers kept requesting a facial soap. TrueBody was happy to oblige. Since their facial soap is new, they sent me a package of it to try. Each package of facial soap comes with two bars while their body soap comes with three. Their soap is gentle and safe because it contains only five products: palm oil, coconut oil, water, vegetable glycerin, and sodium citrate. The new facial soap is rich in antioxidants to moisturize, soothe, and soften. The soaps are also free of animal by-products, synthetic ingredients, or chemical preservatives.
I loved this facial soap. It is unscented which I was surprised to find I really loved. The soap has a nice gentle lather and rinses off with just a few splashes of water. There's no reason to scrub. The bars are big and last for a while. I'm still on my first bar and I've used it every day since I got it over a month ago. After using it, my face feels fresh and clean without feeling tight. I highly recommend that you test this soap out if you have slightly sensitive skin. The soap is available at truebodyproducts.com in two packs of facial soap and three packs of body soap for $5.49. It is well worth the price.
I was not financially compensated for this post. I received a sample of the product for review purposes. The opinions are completely my own based on my experience.