Procter & Gamble Cleaning Review
The spring cleaning marathon continues at my home. There's something about the longer days that inspires me to clean more. I have more energy in the evenings when my kids go to bed, and find a calming joy in tidying up. I'm always stocked up on my favorite cleaning products, including Dawn, Febreze and Swiffer from Procter and Gamble.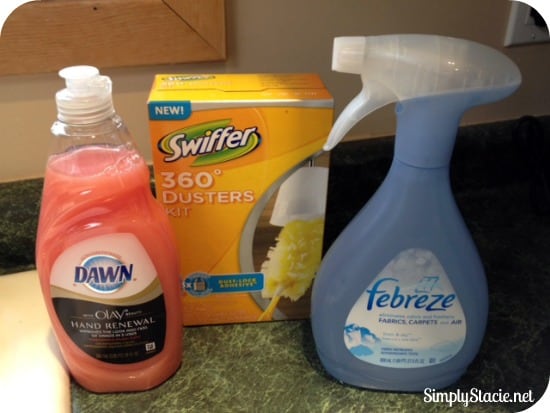 With two young children, one still using bottles, my hands always seem to be in the sink. I'm constantly washing bottles, sippy cups, snack bowls, and other "hand wash only" kid's items. I've always been a fan of Dawn dishwashing soaps, and I'm glad to have discovered their Hand Renewal with Olay Beauty soap. With Dawn Hand Renewal you get the same cleaning power of Dawn as usual, but you also get the added benefit of Olay Beauty's advanced technology, which helps your hands seal in moisture as you wash dishes. I've always hated that dry, cracked feeling my hands would get from washing dishes, so I can use all the help I can get! Dawn Hand Renewal is available at mass merchandise and grocery/drug stores nationwide and has an MSRP of $2.99.
Febreze Fabric Refresher is another staple in my cleaning arsenal. It's a great product to freshen up some of the harder to wash items, like couches and curtains. The great thing about Febreze is that it doesn't just cover up odors, it eliminates them. Febreze has worked wonders on keeping my couches fresh – especially since my couches get a lot of abuse with two growing boys! You can find Febreze in your local grocery and drug stores, with an MSRP of $3.49 – $4.99.
My most despised chore, spring or any other time of the year, is dusting. But since discovering Swiffer products a few years ago, I don't mind it as much – and now, with the Swiffer 360, my dusting is even easier. What I like best about using Swiffer 360 is that it can get in some tight spaces such as between the stacks of electronics in our TV cabinet and in between slats of our dining room chairs. My 3-year-old also likes to get in the act – whenever he sees me with the Swiffer 360, he insists that he be allowed to dust too (and I'm glad to let him!). You can pick up a Swiffer 360 Starter Kit, which includes three 360 dusters and one handle, for about $4.59.
You can check out the full line of Procter and Gamble products and brands on their website.
Disclosure: I was not financially compensated for this post. I received a sample of the products for review purposes. The opinions are my own, based on my personal experience with the product.