Munchkin Kids Cups Review
Having three children back-to-back, I have tried many baby and child related products over the years. When friends and family are expecting they inevitably ask what products are a "must have" for their new baby. At the top of my list are high quality training cups designed specifically for growing little ones. What do I look for in a training cup? I always checked to make sure that it was made from safer materials and it was important that it did not leak.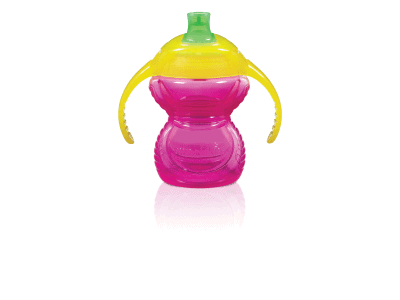 Munchkin® has an excellent line of BPA Free kid cups for babies, toddlers and young children. For babies 6+ months the Click Lock™ Trainer Cup is made of durable silicone and holds 7 ounces of liquid. When not in use, simply click and lock it (you can actually hear it lock in place so you know that it is sealed tightly)….this Munchkin® training cup is guaranteed not to leak! I really like the design of the handles which makes it very easy for little hands to grip and the bright, bold colors captures their interest.
For babies 9+ months who are getting more "advanced" in their ability to drink from a cup, the Click Lock™ Sippy Cup is another good option. This 9 oz sippy cup is designed with the same leak-proof technology that really works after I put it through several real life tests. There were no leaks in my travel bag or backpack while hiking through the woods all day.
For bigger kids, the Click Lock™ Insulated Big Kid™ Cup is mess-free and has a spout-less rim that helps kids move to regular cups with confidence. My four year old likes using this cup while we are traveling in the car or going on long bike rides so there are no worries about spilling his drink. He likes that it looks like a "big kid" cup and prefers it over his old favorite "baby cup".
I have used many Munchkin® products with my children over the years and I have always been pleased with the quality and affordable price point. The products that I have used have lasted a long time and I really appreciate that they have BPA-Free options which I always look for when buying gift for new babies or my own children. Munchkin® products are available at many major retailers including Walmart, Amazon.com and Target or you can purchase your favorites at the online store.
I was not financially compensated for this post. I received a sample of the product for review purposes. The opinions are completely my own based on my experience.