As part of our home school classes this year, we have read many previous works by the best-selling author, Jane Yolen. In fact, my six year son has declared her to be "the best writer in the whole world".
We are delighted to share with you several new release book titles available by Jane Yolen including Bug Off! Creepy, Crawly Poems, How Do Dinosaurs Eat Cookies? and Take Two: A Celebration of Twins.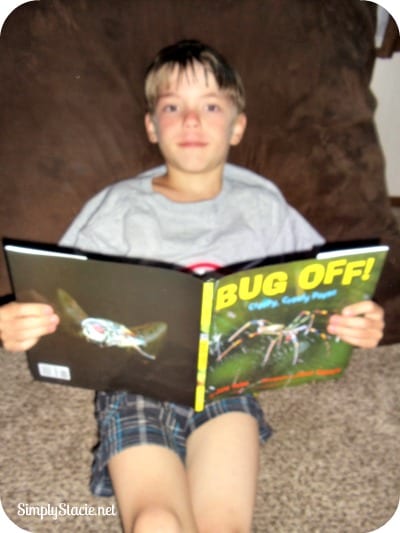 All three of my insect-loving children were excited to read Bug Off! Creepy, Crawly Poems(SRP $16.95). This book is a wonderful way to introduce children to poetry in a fun, creative way that is sure to be appealing to a diverse age group and particularly young boys who may shy away from poetry. In addition to a wonderful selection of poetry featuring creatures from the insect kingdom, there are interesting facts about flies, praying mantis, butterflies, ants, honey bees and more. The photographs by Jason Stemple are beautiful and elevate the text perfectly. My children even took this book with them while searching for insects in our back field and were thrilled when they found a group of hundreds of newly hatched grasshoppers.
My four year old son is a huge fan of the "How Do Dinosaurs" book series so he was thrilled for me to read How Do Dinosaurs Eat Cookies? (SRP $7.99) The classic rhyming text always engages my young children and they love to try to guess the word that comes next. This book is so creative in that it even has "Scratch-and-Sniff" pages for the delicious "cookie" illustrations (the lemon cookie is amazing). The illustrations by Mark Teague are fabulous and it never fails to get lots of giggles from my kids. We really love this board book by Jane Yolen and Mark Teague and my son asks me to read it every night at bedtime for the past two weeks.
Have twins or no someone who is having twins? If so, you are not going to want to miss the fun book that features adorable twins. Take Two: A Celebration of Twins(SRP $17.99) by J. Patrick Lewis and Jane Yolen is a wonderful collection of poems about what else….twins. It even has fun facts about twins to give it an educational twist too. The illustrations by Sophie Blackall are whimsical and fun and brought a smile to all of our faces as I read this book aloud to my children. In fact, I will bet that the grown-ups will enjoy reading this book to their children as much as the children will enjoy listening to it.
All of these titles by Jane Yolen are available for purchase online and at book retailers.
Disclosure: I was not financially compensated for this post. I received a sample of the product for review purposes. The opinions are completely my own based on my experience.