Disneynature Chimpanzee World Premiere Event
My family was honored to represent Simply Stacie at the World Premiere showing of Disney's Disneynature "Chimpanzee" at Downtown Disney on April 13th. Not only was this event exciting and fun but viewing this movie was a powerful experience for my husband and I and especially our children.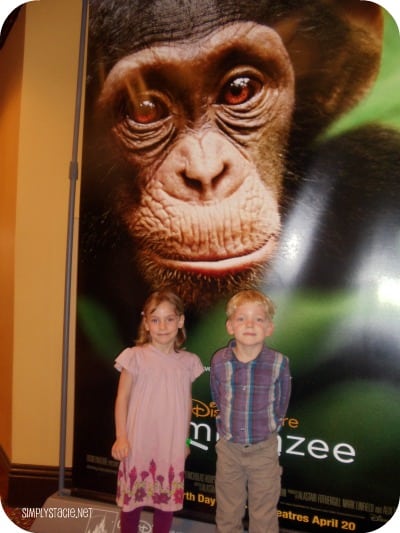 Chimpanzee was directed by Alastair Fothergill and Mark Linfield who have previously directed the Planet Earth television series. This immediately got my attention because in our opinion, Planet Earth is one of the best documentary series ever filmed.
Chimpanzee is true life adventure that transported us to the lush, beautiful forests of Africa where we were introduced to the most adorable baby chimpanzee named Oscar. He flourished in the care of his loving mother, Isha and he is enjoying learning and growing up in his extended chimpanzee family led by the powerful leader, Freddy. Unfortunately when a rival band of chimpanzees invades their territory it leads to a life changing event for little Oscar and his family. What will happen to Oscar? We were privileged to witness one of the most amazing unions ever documented on film…………I don't want to ruin the surprise turn of events but it is truly heartwarming and powerful.
We laughed out loud at Oscar's antics, smiled, cried and were inspired by the way that this chimpanzee family worked together and displayed characteristics of love, friendship and most importantly, teamwork in order to insure their survival. As a home educating mom, I was captivated by how the chimpanzee mothers dedicate their entire lives to teaching their young chimps how to succeed in the forest.
The visuals are stunning, the narration by Tim Allen is spot-on and the story-line is exceptional. My children loved this movie and there were no scenes that were "too scary" for my 4, 5 and 6 year old who frequently watch nature documentaries. My six year old son declared this to be, "the best nature show in the whole world!"
The highlight of this event for me was introducing my son to Dr. Jane Goodall. I don't get giddy meeting the normal celebrity but meeting Dr. Goodall was so exciting because she has been inspirational to me as an independent woman who has devoted her own life to her beloved chimpanzees.
I highly recommend Chimpanzee which will release into theatres on April 20th, 2012. It is a film that is sure to appeal to the entire family and will be an unforgettable experience for all.
Check out the preview for Chimpanzee.
Disclosure: I was not financially compensated for this post. I received free tickets to the Disneynature Chimpanzee World Premiere Event. The opinions are my own, based on my personal experience.