Beyond Bedding Review
Finding quality toddler bedding has been a challenge for me. I have quite a few sets for my sons that just seem to be thin, lower-quality material – from different brands and different stores, they all seem the same to me. So over the years I've mismatched my sons crib and bed with the best pieces of each of the sets I've bought. I've never thought to buy bedding online before, just because I figured they were all really the same. However, BeyondBedding.com has proven me wrong!
I was sent the Frankie's Fire Truck Toddler Bedding Set from Beyond Bedding. When I opened the package and felt the thickness of the comforter, I knew this set was quality. The sheets, the pillow sham, pillow case and comforter were all soft and strong. I was excited to use them on my oldest son's bed. All of the pieces washed well. Even though my son's room is a bit of a hodge-podge of his favorite things (we don't really have a cohesive design in there!), I think the fire truck design looks really cute on his bed. The fire truck design is what I would call "classic" and I think it will always fit in with whatever décor we have in his room. What's neat is that Beyond Bedding also offers accessories that match each bedding set – so we can pick up pieces that we need along the way to match. The Frankie Fire Truck set retails for $89.99.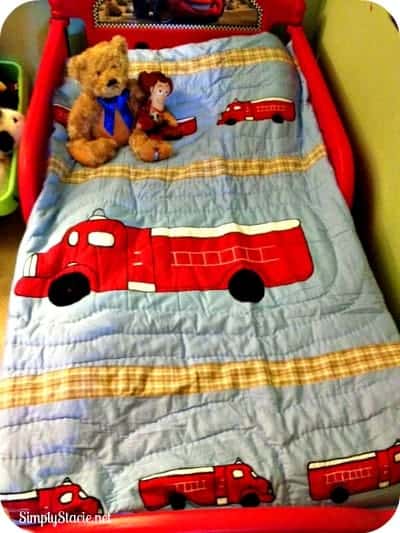 Beyond Bedding offers a complete line of kid's bedding – from the crib years to the teen years. You can pick from matching sets or create your own customized toddler bedding. There are matching accessories for each set – lamp shades, curtains, rugs and more. They offer a flat shipping rate of $7.95 and pride themselves on their guarantee of superior service and customer satisfaction.
You can see the full line toddler bedding sets and other products Beyond Bedding offers on their website.
Disclosure: I was not financially compensated for this post. I received a sample of the product for review purposes. The opinions are my own, based on my personal experience with the product.