Tuesday's Top Blogs According to Mama Does It All
Welcome to Tuesday's Top Blogs! Come and discover some new and interesting blogs. Each week I will feature a different person and ask them to list their five favourite blogs and why they like them. This week, I'm pleased to have Cyndy from Mama Does It All joining us.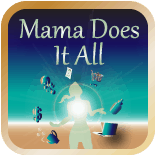 Mama Does It All is filled with reviews, giveaways, blogging tips and the random thoughts of an East Coaster turned Texan.  I'm from MA and married to a native Texan.  We have a 3 year old daughter and I am also stepmom to his 12 year old daughter and 16 year old son.  I maintain 3 blogs and also home-based businesses as well.
Favourite blogs…
Fab Find Foodie: I love reading Fab Find Foodie because it inspires me to try out new recipes and explore more food. The reviews and giveaways are awesome and I love finding out about new food-related products and more! I also enjoy the style of the blog – Angela has a great writing style and it's often like a reading a letter from a friend than reading a review.
The Adventures of J-Man and MillerBug: This is one of the first blogs that I started to follow and I have also loved how her real self comes through with the reviews and giveaways.
Deals from MS Do: I love that the deals aren't just thrown at me. I have learned a lot about saving money from this blog.
Thrifty Texas Penny: I love that she doesn't just write about frugal living, she lives it. I have learned a lot from reading this blog.
Simply Stacie: Honestly, not trying to suck up here (lol). I love reading your blog and have learned a tremendous amount about blogging just by following your blog and reading the tips that you have!
Please fill out this form if you would like to be featured with your top blogs on Tuesday's Top Blogs!