Saturday Featured Blog | Coach House Crafting on a Budget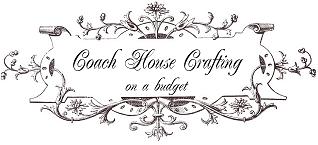 Today I would like to welcome Linda from Coach House Crafting on a Budget! I had a chance to learn more about her blog and here's what she had to say…
Please tell me about yourself.
Ahhh, the 'who are you' question lol. Seemingly I always see myself and describe myself as a mother and wife before anything else – as do many stay at home mums I guess.
I live in the Scottish Highlands on a piece of land with my OH of 21 years, my twin daughters of 20 years, a cocophony of Birds of Prey such as Eagle Owls & Hawks, Chickens and our 5 dogs – 1 Great Dane, 2 GSDs, 1 ShihTzu and a Yorkie cross.
I used to compete with horses and show Great Danes but since moving to the wilds of Scotland travelling is a problem hence the stay at home hobbies I now loooove.
I guess I inherited the 'crafty' gene from my mum (the only one of five to inherit it so how lucky am I! lol)
I absolutely love spending time in my craft shed making over a dodgy piece of furniture and am happiest when creating things, whether it be furniture, garden features, photos or home accessories.
Please tell me about your blog.
Hmmmmm, it's a blog that attempts to showcase projects and ideas for home and garden crafts that haven't cost me the earth to produce – no one wants to spend money nowadays if it's not necessary!
A recession or a global monetary disaster does not mean that we can't have those lovely pieces of furniture we long for, it simply means we need to look differently at discarded items or old items.
What could be more enjoyable and satisfying than bringing life back to a battered, abused piece of furniture?
How did you get started?
Looking for inspiration for furniture and general crafting projects I spent months reading other peoples amazing blogs before realising that I could actually do it too.
My blog was easy to get started but then I found out exactly how much hard work blogging can be, not to mention time consuming but I have found the blogging community to be such a fun, friendly place to be that I was determined to join in.
Once my projects were blogged obviously I wanted to get the traffic and that's when I finally understood what I'd let myself in for lol.
Who does your blog appeal to?
Those crafters who are looking for inspiration and ideas for home projects that don't cost the earth to produce. I really dislike having to buy anything for my projects so I do keep costs down to a minimum.
What direction do you see your blog going in the future?
Wow, up, up & up!
I have the time to spend on it I just need to get more people looking and loving.
I'd like to move to a private web host eventually, I want to improve my photography and staging skills for the projects I blog about, I want to host linkie parties and giveaways and really would like to get a serious foothold in the crafting community – not for monetary purposes but because I love inspirational blogs and I really want to have one of those blogs that people log onto knowing that they'll get their fill of fun & inspiration.
What is the biggest challenge you have faced so far with your blog?
Learning about getting traffic to my blog! It's over my head lol. As is Twitter.
What do you love about blogging?
The community pure and simple.
I live rurally and as such blogging is the only way I really get to communicate with other like minded crafters who share my passions.
Do you have a blogging pet peeve?
Comments that insist on word verification, turn it off people!
Tell me some of your favourite blogs that you read.
Would it seem suck upish if I mentioned yours first? lol. Seriously though yours is one of the first I ever followed so it is a favourite.
Eleven O One Creations:- I adore Frans blog and check it daily. She's been fantastic helping me with some advice and I love her creations.
Not just a Housewife:- I've found inspiration for a few projects here and as they've enabled me to create without spending I've loved em. fab site
Miss Mustard seed:- What can I say, a popular blog that is full to the brim with inspiration, advice and tutorials.
How can people find you?