Road Rippers Review
My boys received a Wheelie Monsters by Road Rippers® for Christmas and they have played almost non-stop with their favorite Ram Raminator toy. I have been extremely impressed with the over-all quality, function and affordability of Road Rippers® toys by Toy State! More importantly, my children play with their Road Rippers® every single day making it a stand out toy in their collection. Therefore, we were very excited to try out the latest Road Rippers® toys and we were even more blown away by the latest styles.
My six year old son and five year old daughter ride real junior dirt bikes and when they are not out on the trail they love to play with their Road Rippers® Wheelie Bikes! These action packed toy Moto-Cross Bikes are available in styles like the Kawasaki Ninja ZX-10R and Kawasaki KLX-140. With a simple push of the button that even my youngest son can do himself, the Wheelie Bike springs into action with motorized drive functions and it even does a signature wheelie. The kids love the authentic motorcycle sounds like the revving of the engine and it even has music to kick up the excitement.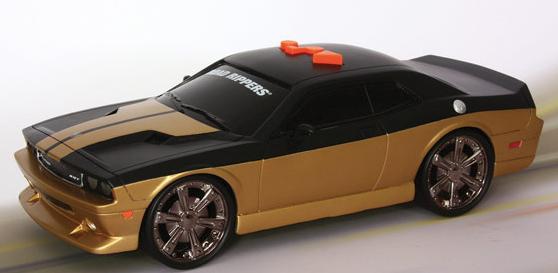 "Honey, step away from the Wheelie Power car!" I had to remind my husband several times that the Wheelie Power car from Road Rippers® was the children's toy. He loved the toys design and function of the Wheelie Power by Road Rippers which is available in styles including a Dodge Challenger (our favorite), Ford Mustang 5.0 and a Dodge Viper. When the child (or grown man in our case) starts the Wheelie Power's engine it was an adventure with wheelie action, lights, realistic sounds and music. These are the ultimate battery operated race cars for young (and older) speed fans!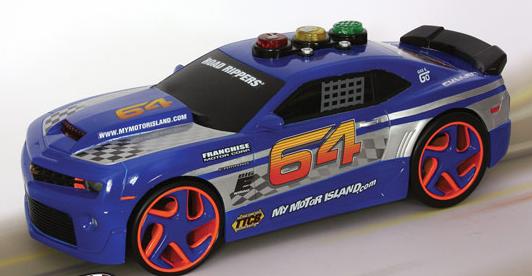 Are you ready for some pit action? If so, the Come-Back Racers are a great toy car line that has a Ford Mustang 5.0, Chevy Camaro (my son and husband were drooling), a Dodge Ram and a Toyota Tundra. My four year old son loves the Toyota Tundra because he can imitate driving his dad's truck and pretend that he is a "just like his daddy". Come-Back Racers by Road Rippers® have motorized forward drive and a come-back feature which is really neat to watch in action. It also has a "light tree" button panel which starts the lights, racing sounds, voice activated features and catchy music.
Road Rippers® has so many exciting options to choose from for children of all ages who love race cars, motorcycles, bikes and cars. I appreciate the attention to detail in the making of each vehicle because these Road Rippers are very authentic looking and designed to be very durable. In fact, my children play with their Wheelie Bikes, Wheelie Power and Come-Back Racers and these toys have withstood the test of time and are still performing perfectly.
You are invited to visit the Road Rippers® to check out the entire selection of action packed toy vehicles including Moto-Cross bikes, race cars, trucks and rescue vehicles!
Disclosure: I was not financially compensated for this post. I received a sample of the product for review purposes. The opinions are my own, based on my personal experience with the product.