Lakeshore Learning Educational Software Review
As a home educating mom, I am a big fan of the educational resources available from Lakeshore Learning. I have spent hours selecting the perfect learning tools both in the Lakeshore Learning store as well as browsing and shopping online.
I was very interested in learning more about the new educational software available exclusively from Lakeshore Learning. There are over 90 new educational software titles to choose from in a variety of subjects including language, math, science and social studies. You can choose the perfect software titles for the child's age and/or grade as there are titles for infants through 6th grade.
The Lakeshore Learning educational software is compatible for both MAC and PC. These titles are perfect for both the classroom and at home because you have the option to purchase as a single use or classroom license. I also like that you can choose a CD-ROM or instant download for immediate access to the program.
I was very impressed with the topics covered by Lakeshore Learning's educational software. For example, I have found it hard to find computer programs in the science area for my younger children. At Lakeshore Learning, I was able to find many different options and ultimately selected the Learn & Play Interactive Science Activities set that has the following programs in one complete set, "Nutrition", "5 Senses", "Plants" and "Weather & Seasons".
My children are ages 6, 5 and 4 (1st grade and Pre-K) and are really enjoying each of the science computer programs. They really like the colorful, engaging graphics as well as the fun, learning interactive games and activities. Each title starts off with a lesson on the particular subject and then the kids can practice what they learned through interactive activities. My six year old son loves to challenge himself with the quiz at the end of each lesson too. I like that there is an option to print out a student assessment so that I can track and record the skills that my children have learned.
The Rockin' Rhyme ($14.95 single license) interactive game software is a great way to teach younger children about phonemic awareness. My four and five year old children ask to practice lessons and activities every day and love "winning" the game.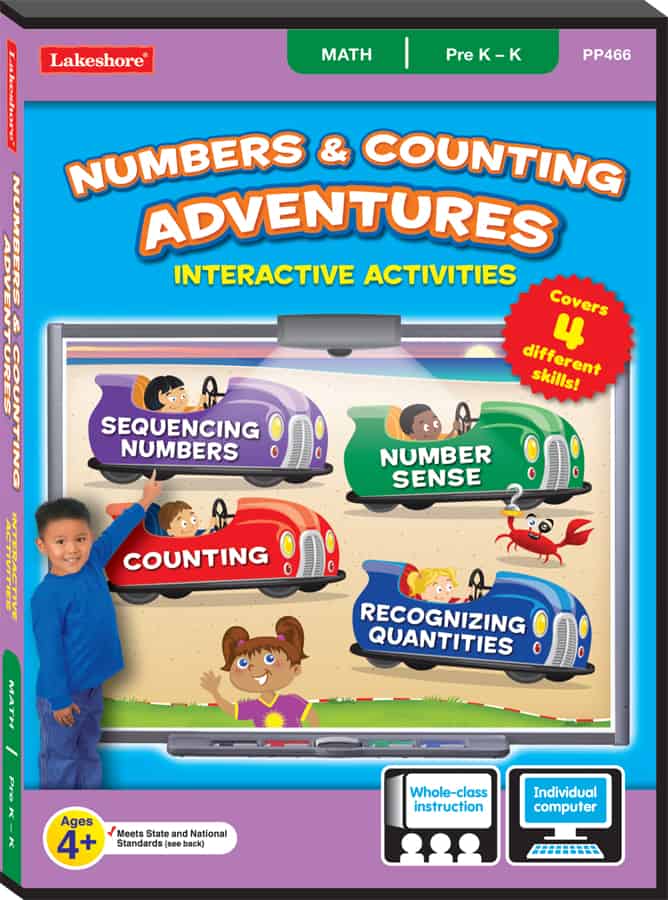 Numbers & Counting Adventures Activities ($19.95 single license) is an ingenious way to entice younger children practice learning their numbers and counting skills. This exciting adventure game teaches the kids to put the number in sequential order and line up the cars for the big race…..my two boys love this feature!
From both a parent and an educator's perspective, I am very impressed with the quality, content and affordable pricing of Lakeshore Learning's educational software. These computer titles are a nice addition to our home school curriculum and it is frequently requested for use by all three of my children. It is a great way to reinforce important learning skills in a way that is both fun and educational.
You are invited to visit Lakeshore Learning to browse the entire selection of titles and purchase your favorite interactive game software.
Disclosure: I was not financially compensated for this post. I received a sample of the product for review purposes. The opinions are my own, based on my personal experience with the product.