Boom Boom! Cards Review
"Everyone wants to live in a happy world where people go out of their way to be good to each other, right? But sometimes we get so busy with life, we let little oppurtunites to do good pass us by. Well, not anymore. Welcome to the Boom Boom Revolution!
The Boom Boom Revolution was started by a group of people dedicated to what the call "guerrilla goodness". Guerrilla goodness is just doing random good deed throughout your day. To help you get started, the Boom Boom Revolution has released 4 decks of cards. Each set of cards has 26 cards with a random good deed on it. You can choose from the original, family, teen, and green packs. Check out all of the cards here.
Boom Boom Revolution sent me the Original Pack to review. When it arrived the first thing I did was register the deck and officially join the revolution. Once you complete one of the cards, you enter its code online tell the story of how you performed the deed. Then you can either give the card to the person for whom you performed the good deed or put it back in the deck. If you give it to someone else, and they enter the code online, you can follow as your card (hopefully) makes it around the world. Personally, I think that is pretty cool.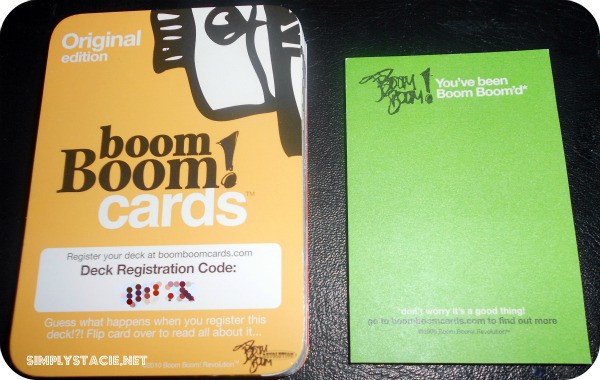 Let me tell you a little more about the deeds on each card. These aren't anything crazy, just simple little things you can do to make the world a better place. Here are a few of the cards, one from each deck.
Each kit is available on their website for $9.99, except the family kit which is $14.99. The family kit is a little extra because it also comes with a board and stickers to keep track of your family's progress.
Connect with Boom Boom! Cards on Twitter and Facebook. 
Disclosure: I was not financially compensated for this post. I received a sample of the product for review purposes. The opinions are my own, based on my personal experience with the product.